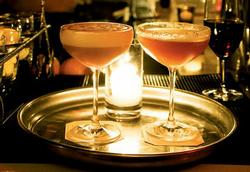 Cocktail lovers: We interrupt your weekend to bring word of Remastered Editions, a drink series that begins Sunday, January 6 at Proof in Penn Quarter.
Bar manager Adam Bernbach is featuring spins on three classic drinks. First up on the 6th: the Manhattan (classic recipe: whiskey, vermouth, bitters). On the 13th, the focus will be on the daiquiri (rum, sugar, lime). Finally, on January 27, try variations on a whiskey sour (whiskey, sugar, lemon). Why those three drinks? They "are amongst my favorite cocktails," the bartender told us, "and I've thought quite a bit about them throughout the years, tweaking them to various tastes."
On each of the three Sundays, Bernbach's creations will be on offer from 6:30 to 9:30 in the bar and lounge only and will cost between $11 and $14. The Manhattan options are: Eagle Rare Bourbon and Cocchi Vermouth di Torino with Angostura Bitters; Old Overholt Rye and Dolin Rouge with Peychaud's and Angostura bitters; Templeton Rye and Carpano Antica Formula Vermouth with Regans' Orange and Angostura; and Bulleit Rye and Cocchi Vermouth di Torino with Angostura bitters and a dash of Fernet Branca.
Daiquiris will feature El Dorado Three Year Cask Aged Rum and Rhum Neisson ESB (the ESB stands for élevé sous bois, a reference to the 18 months the Martinique-made spirit marinates in new French oak barrels). No specifics about those whiskey sours yet, though, says Bernbach, "some will, of course, include egg." (When an egg white gets whisked into a whiskey sour, it is often then called a Boston sour). If you haven't yet tried an eggy cocktail, we can think of a lot worse places to start than across the bar from Bernbach.