If your idea of a page turner includes millinery, quilting, and Quaker life, Tracy Chevalier's new novel, The Last Runaway, might have you panting from page one. For others, it's going to take a bit longer. But hang in there—the book is worth it.
Set in antebellum Ohio, the story centers on Honor Bright, an English Quaker who emigrates to the Friends community around Oberlin. A local tells her the town was "founded on principles of equality," but it's not long before Honor has a run-in with the local slave catcher. Eventually, she finds herself working to help slaves escape to freedom via the Underground Railroad.
The Last Runaway's greatest strength is how it subtly poses ethical conundrums. For instance, deception is essential to the Railroad's success, yet as a Quaker, Honor can't lie. Then there's all that cotton. A quilter by trade, Honor is constantly working with cloth "made in Massachusetts with cotton from a southern plantation." Should she stop because the material is a product of slave labor?
Chevalier, best known for Girl With a Pearl Earring, grew up in Washington, graduated from Bethesda-Chevy Chase High School and Oberlin College, and now lives in London—experience that allows her to draw amusing contrasts between English and American landscapes, culture, and food. "Honor gazed at the greasy ham, the eggs flecked with fat, the stodgy corn bread she'd had at every meal in America," Chevalier writes. "She did not think she could face eating any of it . . . ."
Gazing up at the Pole Star one night, Honor is amazed "that in a sky full of movement, there could be one fixed point." When our world is in flux, The Last Runaway reminds us, it's our principles that guide us home.
This article appears in the January 2013 issue of The Washingtonian.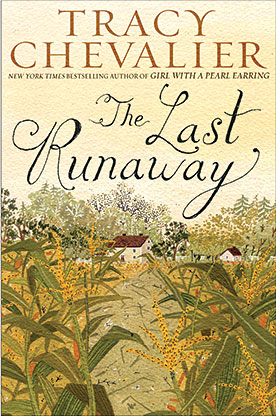 Publisher:
Dutton Adult
Price:
$26.95