For family-run ethnic restaurants with slender margins and
unprepossessing locations, sinking a lot of money into decor doesn't make
much sense. If there's a common thread among the cultures making up our
extensive ethnic dining scene, it's a penchant for bare-bones rooms,
fluorescent lighting, and worn carpeting. Unless you're talking about Thai
restaurants, which appear to have a design aesthetic all their
own.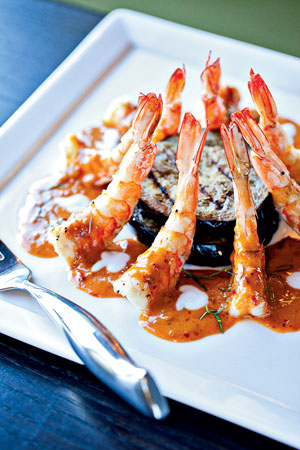 For every utilitarian Thai dining room, there are three others
with walls of purple, orange, and green, lacquered tables, and drinks that
are essentially liquefied candy.
The latest is Sugar Palm Thai, where vaulted walls alternate
between shades of pale green and vibrant orange. The booths, which pick up
the green in pretty, swirling patterns, would be at home in a trendy
coffeehouse. Entrées arrive family-style on large, diamond-shaped platters
seemingly pulled from Martha Stewart Living. Ditto the modish
cocktail glasses, filled with gin and rum concoctions and topped with
paper umbrellas and maraschino cherries.
A stylish look is no guarantee of greatness, of course—in fact,
many of the most attractive places are middling. Sugar Palm Thai is not.
The kitchen may not always bring the heat, but it also isn't so
preoccupied with presentation that it stints on flavor or complexity. And
while there are some obvious sops to American tastes, plenty of dishes
make good on the promise of the setting.
The strength of this kitchen is not in its appetizers—an
exception being a plate of lightly fried fish nuggets tossed with
lemongrass, shallot, and chopped mint ($9). Spend time instead with the
curries: a lush, spicy green with hunks of stewed, bone-in chicken, Thai
eggplant, and bamboo shoots ($10.95) or a creamy, slow-burning red that
knits together rich slices of roast duck and sweet lychees and cherry
tomatoes ($16.95). The presentation of the sweet-hot chu chee
curry ($16.95) is banquet-worthy—grilled, skewered prawns are grouped in a
kind of prayer circle—but the star ingredient was overcooked the night I
ordered it. The best part of the dish was the soft-cooked eggplant, which
we swiped through the rich, mouth-warming gravy. The rendition of
massaman ($16.95), a red curry studded with new potatoes and
pearl onions, ignores the usual tough, chewy cubes of beef in favor of an
upgrade: stewed leg of lamb.
My friends at all three meals gushed over the noodle and rice
dishes, particularly the kee mao ($10.95), whose wide, chewy
bands of rice noodle gave off hits of smoke (thanks to the char of the
grill), heat (red chilies), and fragrance (basil). But I wish the kitchen
had a less liberal hand with the oil.
Better to save the calories for the crispy sea bass ($14.95), a
passel of crunchy filets under a spicy chili-basil sauce, or the tom
zabb soup ($12.95), a variant on tom kha kai, minus the
coconut milk and brimming with hunks of broth-softened beef. That
tenderness gave me high hopes for a plate of crispy pork belly and Chinese
broccoli ($13.95), but the thick blocks of bacon were either just shy of
incinerated or unctuous with unrendered fat.
Most Thai desserts generally aren't worth the bother, but the
three here are, and one—bananas swaddled in wonton skins, deep-fried, and
glazed with honey and crushed peanuts ($6)—is good enough to cross over to
most Western menus. Like much of what precedes it, it's nice to look at
and even better to eat.
Sugar Palm Thai, 5580 Vincent Gate Ter., Alexandria;
703-354-1077. Open daily for lunch and dinner.
This article appears in the January 2013 issue of The Washingtonian.