Virginia
Gypsy Soul. Rogue 24 chef R.J. Cooper switches
from an urban alley to an innovative suburban development—and trades
hypermodern creations for regional American cooking—at this sprawling
bilevel eatery. An open rooftop will boast three wood-burning grills, and
Rogue's Bryan Tetorakis will oversee the drinks. 2910 District Ave.,
Fairfax. Projected opening: 2013.
La Tagliatella. This chain—with more than 135
outposts in Europe—is setting its sights on the Restaurant 3 space in
Clarendon for its second stateside location. Expect pastas from Northern
Italian regions such as Piedmont and Liguria alongside Neapolitan-style
pizzas. 2950 Clarendon Blvd., Arlington. Projected opening:
winter.
Red Apron. Chef Nathan Anda's farmers-market
butcher stand finds its first permanent home in Merrifield's Mosaic
District. The cases will hold cuts of local beef and pork, hot dogs and
sausages, and pâtés. Another shop is slated for a March debut in DC's Penn
Quarter. 8300 Lee Hwy., Fairfax. Projected opening: January.
Taco Bamba. Victor Albisu is trading the
dry-aged tenderloins he grilled at BLT Steak for chorizo and skirt-steak
tacos at his first-ever restaurant, a warm-hued taqueria near his mother's
Latino grocery. He's planning such snacks as green-chili/shrimp empanadas,
chipotle-spiced mushroom tacos, and cola-braised beef cheeks. 2190 Pimmit
Dr., Falls Church. Projected opening: early 2013.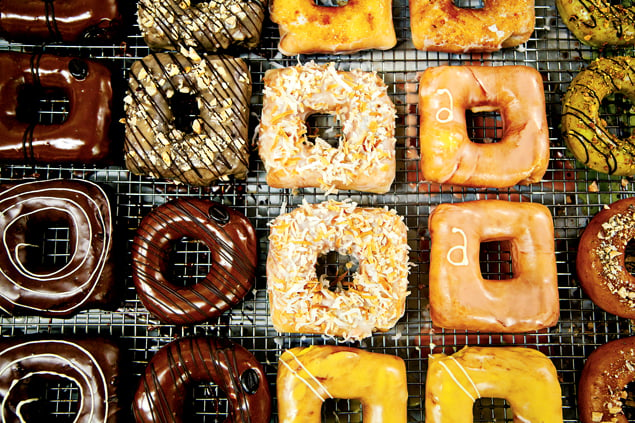 The District
Ambar. Washington will get its first Balkan
restaurant courtesy of Ivan Iricanin, a partner in Richard Sandoval's El
Centro D.F. and Masa 14. Look for dishes ranging from bacon-wrapped prunes
stuffed with goat cheese to prosciutto-and-cheese pie, which can be washed
down with rakija, a potent fermented-fruit liqueur. 523 Eighth
St., SE. Projected opening: January.
Astro Doughnuts & Fried Chicken. Former
Fiola pastry chef Jason Gehring takes on the comfort-food pairing of the
moment at this snug carryout. Crispy birds—buttermilk-battered and
Sriracha-glazed are among the varieties—will be served alongside rotating
doughnut flavors including creamsicle and burnished-to-order crème brûlée.
1308 G St., NW; 202-809-5565. Projected opening: January.
Baby Wale. Corduroy chef/owner Tom Power goes
casual with a pubby hangout behind the convention center. One of DC's
longest bars will have 50 seats for sipping wine and craft brews. Power
plans a laid-back menu with pupusas, lobster rolls, and roast
chicken. 1124 Ninth St., NW. Projected opening: February.
Black Whiskey. Kushi's Darren Lee Norris is
behind this Logan Circle bar combining two of his favorite pastimes,
whiskey-drinking and art. A gallery with rotating street-art exhibits and
pop-up chef dinners will be on the ground floor, while an upstairs bar
will be the place for sipping small-batch American whiskeys and 20-odd
brews as well as grazing on meaty snacks from a carving station. 1410 14th
St., NW. Projected opening: March.
Bluejacket. Nationals fans will have yet
another pre-game option with the Neighborhood Restaurant Group's grandest
project yet: a brewery headed by Megan Parisi and Greg Engert. In addition
to its own suds, expect collaborations with such local producers as DC
Brau and Stillwater plus beer-friendly plates—rotisserie chicken with
spaetzle, pot roast—from Birch & Barley chefs Kyle Bailey and Tiffany
MacIsaac. 300 Tingey St., SE. Projected opening: spring.
Kapnos and G. Graffiato's
Mike Isabella arrives on 14th Street with wood grills blazing. Kapnos will
be a 150-seater specializing in spit-roasted meats and Greek small plates.
G—an Italian sandwich shop serving chicken Parm and meatball subs at lunch
and a four-course set menu at dinner—will be next door. 2201 14th St., NW.
Projected opening: spring.
Le Diplomate. Philadelphia restaurateur
Stephen Starr is primed to open his first Washington venture, an all-day
French bistro similar to Parc Brasserie, his charcuterie-and-cassoulet
spot on Philly's Rittenhouse Square. 1601 14th St., NW. Projected opening:
spring.
The Red Hen. Former Proof sommelier Sebastian
Zutant is set to open a 50-seat Italian-accented restaurant in
Bloomingdale with wife Lauren Winter, the design talent behind such
interiors as the Gibson and Rogue 24. Expect a brick-walled dining room, a
vegetable garden, and handmade pastas. 1822 First St., NW. Projected
opening: spring.
Maryland
Attman's Deli. This century-old Baltimore deli
is putting a spinoff in the Cabin John Shopping Center. It will bring
overstuffed corned-beef and pastrami sandwiches plus matzo-ball soup and
knishes. 11325 Seven Locks Rd., Potomac. Projected opening:
April.
Brickside Food & Drink.The owners of Adams
Morgan's rowdy bar GrandCentral and Fairfax's cozy Villa Mozart are
teaming up on a restaurant featuring pizza alongside ribs, TVs tuned to
sports, and a weekend DJ. 4866 Cordell Ave., Bethesda. Projected opening:
spring.
4935 Bar and Kitchen. What was once Tragara
has been taken over by Ashish Alfred, who plans to combine his Indian
heritage with his French training. Dishes will include a watermelon salad
with paneer and mussels and clams steamed in coconut milk. 4935
Cordell Ave., Bethesda. Projected opening: January.
100 Montaditos. The name says it all at this
Andalusian chain. Tapas-size baguette sandwiches come with 100 fillings,
from Serrano ham to a hot dog with bacon. 4922 Elm St., Bethesda.
Projected opening: April.
TJ's Grill Bethesda. Tommy Joe's Alan
Pohoryles is turning an upholstery shop into a restaurant and has
recruited chef Jed Fox, whose résumé includes the Inn at Little
Washington. We're guessing one of the biggest draws will be the 250-person
rooftop. 7940 Norfolk Ave., Bethesda. Projected opening:
summer.
See Also:
2013 Restaurant Preview: New and Noteworthy
This article appears in the January 2013 issue of The Washingtonian.