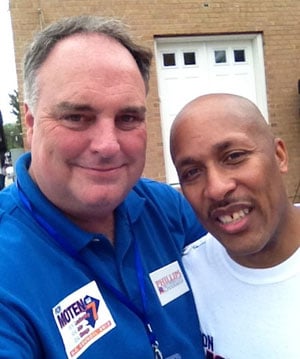 A month ago
Ron Phillips approached House Speaker
John Boehner and said he was mounting a campaign to take over the DC Republican Party.
"You're doing what?" Boehner responded, according to Phillips.
Boehner was in the midst of fighting to keep his leadership in a national Republican
Party that's becoming less urban and more socially conservative. He knew Phillips
as a conservative GOP activist who had worked for former congressman
Duncan Hunter, a very conservative Californian. Why would Phillips want to run a city-based Republican
Party outnumbered by Democrats by more than ten to one? Where
Barack Obama had gotten 91 percent of the vote?
Phillips said he was committed to building the Republican presence in the nation's
capital despite the odds, because the time—oddly—was right, and the party needed to
appeal to urban voters.
"I'm going to help you out," Boehner told Phillips. "We have to be competitive in
cities."
Last week Phillips was elected chairman of the DC GOP. He immediately appointed an
African-American as executive director and as treasurer. He ran on a ticket that elected
Ralph Chittams, an African-American Ward 7 businessman, as vice-chair.
Boehner is not the only national figure willing to help. Phillips is scheduled to
meet later this month with
Newt Gingrich and Republican Party chair
Reince Priebus.
To what end?
"I want to show everyone in the District of Columbia that the GOP is open to all residents,
that we're going to be active east of the Anacostia River," Phillips tells
Washingtonian. "We are going to compete in all eight wards. The time is right."
Phillips is right about timing. If the Republicans are going to make any inroads in
a city that's essentially been a one-party town for decades, now might be the best
time. Democrats have been tarnished by corruption investigations that have forced
two sitting council members out of office. Federal prosecutors have called aspects
of Mayor
Vince Gray's mayoral campaign corrupt. And new residents are moving into the city, many of whom
might be vulnerable to Phillips's pitch.
"There's no well-oiled political machine anywhere in the District," Phillips says.
True, but that doesn't mean unlimited buckets of grease will help build a Republican
machine from scratch.
Speaking of scratch, the DC Republican organization is broke.
"We have less than $1,000 in party coffers," says Phillips.
Even with loads of cash, it's a stretch to think Phillips—a 50-year-old conservative
Floridian who rose through the ranks of the Sunshine State's GOP party—can build a
Republican presence in DC.
For decades the local GOP has been a party dominated by wealthy whites based in Georgetown.
Even though the Home Rule Charter requires that two of the four at-large council members
come from parties other than Democratic, the council has had one Republican who stuck
with the party.
Carol Schwartz was a member of the school board, and then the council, for decades, until she lost
an ugly primary.
David Catania was elected as a Republican but switched to Independent.
"The local Republican party has been a social club, not a political party," allows
Phillips. "That's why people haven't supported it."
In the future, Phillips vows to field and support candidates across the city, but
his best chance to get a foothold in the council will come on April 23, when voters
will fill the at-large seat vacated when Phil Mendelson became chairman. Patrick Mara,
who bumped off Carol Schwartz, is a committed, attractive candidate. He will be running
in a general election against a crowded field of Democrats. If Mara, backed by Phillips,
can convince Republicans and a few Independents to vote for him, he stands a chance
of taking the seat.
"I wish the election were a year from now," says Phillips. "We need more time to rebuild."
The rebuilding will fall to Robert Turner, Phillips's choice for executive director.
A 42-year-old lobbyist, Turner now serves as president of the DC Log Cabin Republicans.
"We have to convince people the Republican Party is not as crazy as many think it
is," says Turner, who is African-American. "We have to start talking to people in
all eight wards. We can't just show up before an election with a candidate no one
knows. We have to be there year around."
Turner and Phillips hope to appeal to voters with basic GOP dogma: limited government
and lower taxes. In Ward 3, where white voters are consistently liberal, they hope
to attract voters by talking about crime and education.
"It's going to take time," Turner says. "We're going to have to show up at every festival.
We're going to try to get new residents to register as Republicans."
It's not certain that having Boehner and Gingrich show up will help. It might hurt.