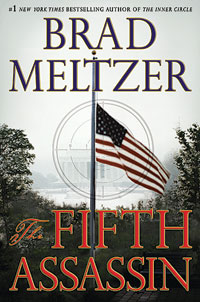 Thriller author Brad Meltzer—a former Washingtonian who now lives in Florida—is back this month with the second novel in his Beecher White series, The Fifth Assassin. White, an archivist at the National Archives, is on the heels of a Washington copycat killer who's recreating, with striking historical accuracy, the four US presidential assassinations. And he's not stopping there. Here's a conversation with Meltzer.
Your novel proposes that the four successful assassins in US history were part of a secret brotherhood and that they're about to welcome a fifth member. How did you come up with that?
I've been playing with the idea for years. Then a few years ago, a reader in DC told me I needed to come to a secret museum almost no one knew about [the National Museum of Health and Medicine]. I was suspicious, so I asked him what they had at this so-called museum. He told me, "Pieces of Abraham Lincoln's skull, the bones of John Wilkes Booth, and the bullet that killed Lincoln. Wanna see them?" Yes, I wanted to see them. God bless the US government for having all this stuff.
As a country, we seem to be both horrified and fascinated by an assassination attempt on a President. Do you think there's something particularly American about that?
We are obsessed with celebrity. And our democracy gives us a very personal tie to our Presidents—we picked them, we're invested in them, we want to know what they eat and wear. So when one dies, we take it as a personal loss. And I have to say I'm glad we get the chance to be that tied to our leaders.
You're known for being a meticulous researcher. How did the research for this book stand out?
Usually I'm trying to find out about the secret bomb shelter below the White House. With this book, I spent two years knee-deep in assassins and presidential deaths. I'm not sure it's healthy to be that obsessed with the obsessed, but I couldn't take my eyes off the assassins. Though I also found the secret tunnels below Camp David—when I found that, I found the ending.
According to the Washington Post, you were a member of the Department of Homeland Security's Analytic Red Cell team, which assembles "people with offbeat specialties and life experiences" to anticipate the next terrorist attack. You mention the team in The Fifth Assassin's acknowledgments. How did it figure into the book's creation?
I was amazed that Red Cell was asking for help from regular citizens, but when I traced it back through history, I saw that the idea started with George Washington, who had his own spy ring made up of ordinary citizens. Why? Because no one would look twice at them. So I said to my friend in DHS, "Wouldn't it be cool if we found out that George Washington's spy ring still existed?" He replied, "What makes you think it doesn't?" Right there, I had the idea for my book.
This is the first series that you've written. What made you want to bring back Beecher White?
Every book is terrifying, largely because I'm determined to try what I've never tried before. Not out of bravery but out of fear of being one of those writers who churn their books out, all of them the same. I've written from various perspectives; I've killed main characters. So after eight standalone thrillers, I wanted to try bringing a character back. I thought it'd make it easier, and in some ways it did. But if you want to tell a good story, you have to take that character to an emotional place he's never been.
What have you been reading? Who inspires you?
My youngest son just discovered Dr. Seuss, so I'm reading lots of Fox in Socks. Man, I never see that ending coming. Screw that Knox in Box—he's a cold bastard.
As for inspiration, I recently reread Replay by Ken Grimwood. It asks: What would you do if you could replay your life? As I gear up for a breathtaking midlife crisis, I was pleased to see how beautifully it held up.
This article appears in the January 2013 issue of The Washingtonian.