Relaxing Spas

The lush new Four Seasons Hotel Baltimore, which reigns over the waterfront in the up-and-coming Harbor East neighborhood, delivers a resort-like experience in the heart of the city. It has three Michael Mina restaurants, a bar with one of the country's most ambitious sake menus, and a spa that's already earned devoted fans thanks to such offerings as deep soaking pools, aromatherapy rain showers, a Finnish rock sauna, and VIP spaces large enough for parties to nest for a day. 410-576-5800.
Panama is a hot warm-weather destination: It was the number-one option in the New York Times' annual "Places to Go" feature for 2012. The new Westin Playa Bonita Panama, minutes from Panama City, makes the perfect perch—it's hugged by tropical rainforest and fronted by the Pacific Ocean. Guests can while away their days at the pool, the beach, or the new Clarins spa, where innovative hot, cold, and hydrotherapy experiences are paired with holistic healing, including shiatsu treatments by a physician. 800-937-8461.
Family Fun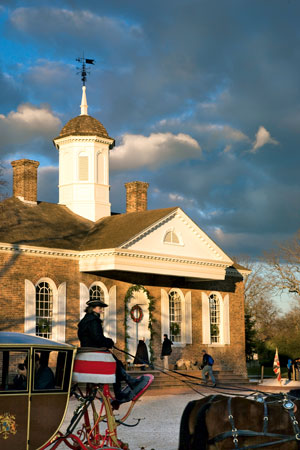 Winter may be the best time to make the three-hour drive to Virginia's Colonial Williamsburg, because it's the only time you can go behind the scenes to learn how sets and costumes are made. For the holidays, the historic center is storybook perfect with greens, candlelit windows, and caroling. For total immersion, stay in a Colonial house in the heart of the village, where you'll fall asleep to the clopping of horses on cobblestone (757-229-1000; colonialwilliamsburg.com). Other families may prefer the indoor water park, kids' shows, and story times at nearby Great Wolf Lodge (800-551-9653).
Round Hill Hotel and Villas in Montego Bay, Jamaica, is one of the few truly luxurious Caribbean resorts to welcome families. Children will find plenty to do at the beach, pools, and complimentary kids' club, which offers lessons in everything from organic island farming to reggae. A new Ralph Lauren-designed restaurant—with one of the world's best wine lists, according to the Wine Spectator—serves family-style, farm-to-table meals featuring ingredients from the resort's garden. 800-972-2159.
Cultural Pilgrimages
A four-hour drive lands you in the Allegheny Mountains of Pennsylvania, home to one of America's architectural treasures—Fallingwater, designed by Frank Lloyd Wright in 1935 (724-329-8501). You can stay nearby at Nemacolin, a resort on 3,000-plus acres with a variety of winter sports, from skiing to tubing to dogsledding (866-344-6957). Fallingwater is open on weekends in December but closed in January and February.
Crafted from sun-baked rock, Taliesin West was Frank Lloyd Wright's low-slung winter home in Scottsdale, Arizona (480-860-2700). If you make the trek to see Taliesin, you can stay nearby at Sanctuary on Camelback Mountain, which was designed by one of his protégés. Guests can lodge in Wright-worthy casitas and book treatments under the stars at the spa (800-245-2051; sanctuaryoncamelback.com).
Active Adventures
Who knew that Pennsylvania's Amish country could be full of adventure? Two hours from Washington, you can hitch a ride with the US Hot Air Balloon team, ride a horse-drawn sleigh, or shadow rangers who tap trees for maple syrup. Stay at the Bird-in-Hand Family Inn, which offers free tours of Amish farmland along with on-site indoor pools, a game room, and a Pennsylvania Dutch restaurant (800-665-8780).
Whether you don a snorkel and mask or are certified to scuba-dive, you can swim with manatees at Florida's Plantation on Crystal River. November through March, more than 400 wild manatees take refuge near the resort in the warm waters of the Crystal River springs. The 232-acre resort, with a tennis court and golf course, also is a haven for birds, including ospreys, eagles, and horned owls. 800-632-6262.
Nonstop to the Sun
The introduction of JetBlue's new non-stop service from Reagan National to San Juan gives Washingtonians the option of flying to Puerto Rico in one hop from all three of the region's major airports. Which other Caribbean beaches can be reached on nonstop flights?
According to Jessica Griscavage at McCabe World Travel, winter travelers from Washington Dulles can get to Saint Martin, Grand Cayman, Jamaica, and the Dominican Republic on Saturday-only flights; to Saint Thomas on Sunday, Thursday, and Saturday; and to Cancun on Saturday and Sunday. BWI offers flights every day to Cancún.
While the Bahamas are technically not Caribbean, you can get to Nassau, too, on nonstops from BWI and Reagan National. (Schedules are subject to change.)
Love on Ice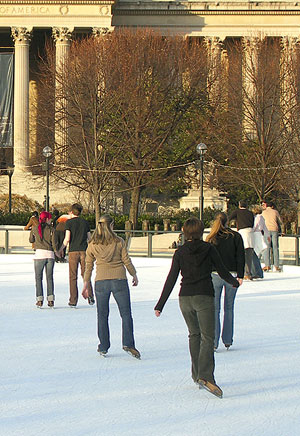 It's like being in a classic date movie: Take your sweetie ice-skating at the National Gallery of Art Sculpture Garden Ice Rink. The small outdoor rink is very romantic, with views of the monuments. Afterward, warm up with hot chocolate at the Pavilion Café. Seventh St. and Constitution Ave., NW; 202-737-4215.
Winter Wonderland
This time of year, one of the best places to get some exercise, enjoy the crisp air, and learn something new is the National Zoo. You'll likely have much of it to yourself, especially early in the morning—when some animals are most active. Kids delight in running around the small-mammal house without the summer crowds, and zookeepers often are on hand in the exhibit houses to offer impromptu lessons on the animals. In winter, the grounds are open 8 to 6, exhibits 10 to 4:30. 3001 Connecticut Ave., NW; 202-633-4888.
This article appears in the January 2013 issue of The Washingtonian.