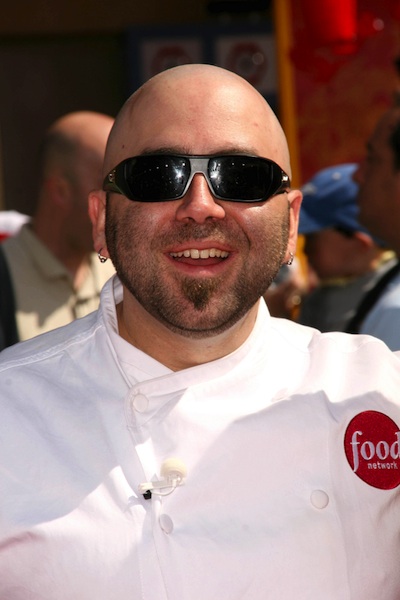 Baltimore's Charm City Cakes and chef-owner Duff Goldman are no strangers to the spotlight—you can catch them each week on the Food Network's popular reality show Ace of Cakes—but today brought news of the ultimate honor: Goldman and his crew were tapped to design the official cake for the Commander-in-Chief's Ball on Monday. The nine-tiered confection will be served at one of the only two official inaugural balls, boasting an elaborate design and variety of flavors including lemon-poppyseed, red velvet, pineapple-coconut, and pumpkin-chocolate-chip. We chatted with Goldman about the process of designing the cake of the weekend, how many hours it takes to assemble, and what confection he'd want if he were elected President.
What did you do when you first heard the news you'd be chosen to design the official inaugural cake?
It's so exciting. Every baker in the world, or at least every baker in the United States, really wants this job. It's a huge honor. It feels really good that the [Inaugural] Committee had enough faith [that we'd] do something fantastic, and we're not going to let them down.
Tell us about the thought process that went into designing the cake.
We started out with a lot of different designs. This is for the Commander-in-Chief Ball, so it's honoring the military. We do a lot of work with the military—everything from really elegant occasions to balls to replicas of tanks. We're thinking everyone is getting dressed up in tuxedos and it's nighttime, so we tried to keep it a little more elegant and settled on a tiered cake rather than a giant tank with presidential seals on it. It's a really tall, nine-tiered cake, really elegant, really beautiful, with a little bit of whimsy attached to it. There are stars shooting out of it that look like fireworks, there's a lot of glitter, a lot of silver. . . . It also has a lot of stars and stripes, and seals of the five different branches of the military, and a really big presidential seal on the widest area.
Were you given any guidance from the White House in terms of the flavors or appearance?
Oh, yeah, definitely. We had about 12 different sketches, and they picked what they liked from each of them. It was a collaborative process. We had a conversation. That's how we do a lot of our cakes. We have some good ideas, and a lot of our customers have an idea of what they want, so we try to help guide people and work with them.
How many days or hours does it take to assemble?
We're starting today, and it'll probably take about three days. We're going to have four people just working on this cake, so we're probably looking at 100 hours or so.
What's the most difficult design element?
All the seals. There are a lot of things you really have to get just right. There are edible printers that print out a picture and put it on a cake—we don't do any of that. Everything we do is by hand. So when you're making the seal of the President of the United States, that's a really long, careful process. That's the kind of thing you really don't want to mess up. You don't want to misspell anything. The people that are there, we're making this cake to honor them. We don't want them to say, "There aren't enough arrows in the eagle's claw" or "The chain is on the wrong side of the anchor."
The art of cake decorating is really one of exactitude. There are a lot of cake decorators out there, and what separates the good ones from the great ones is really taking your time with things. Because when you have a cake, it might get scrutiny from someone for 15 seconds. You don't want anything to stand out for a bad reason. You almost don't want them to notice it's handmade.
How many pounds will the cake be once it's finished?
It's a nine-tiered cake, roughly five feet high, so I gotta guess maybe 45, 50 pounds.
For this particular cake, was there any security involved, or taste testers?
At this point, I can't really talk about it. We've done a lot of cakes for different government functions. We're well trusted.
How do you safely transport the cake from Baltimore to Washington?
We're actually transporting pieces, and each layer is separate. We'll build it when we get there. A five-foot-tall cake would fall over if you try to move it!
How long does it take to build?
Once we get there we'll probably spend two hours assembling it. We'll fix any cracks that happen, and put a ribbon or sometimes pipe a border around each tier.
Does it take a heavier knife or cake cutter since it's such an elaborate design?
A regular cake knife works. All the decorations aren't that heavy. It's not like a steak!
If you were elected President, what kind of cake would you celebrate with?
That's a good question! You blindsided me, I have no idea. It's so far-fetched that I'd ever be elected President. You know what, I'd want a cake that was really bright and colorful, and really exuberant. If for some reason the American people decided to elect me President, it would be because I'd be injecting a good dose of fun into the country. My MO is to always have a good time, always have fun, even when you're working as hard as possible. I think that's something we all need to realize once in a while. Things are fun, and we live in an amazing, beautiful country, and I'd really want to celebrate that.