Inauguration 2013 featured plenty of stars: Michelle Obama's bangs, Beyoncé's (lip-synced) performance, and Bill Clinton's epic photo bomb. But there was one unsung hero of the day that made national coverage: DC's bike lanes.
"We knew the inaugural parade would direct some attention to the bike lanes, especially if the President and First Lady got out and walked," DDOT director of communications John Lisle wrote to Well+Being in an e-mail. "That's exactly what happened, and the response exceeded our expectations. [ . . . ] We were proud that the nation got to see some of the bicycle infrastructure we've put in place in the last four years. Only thing that would have made it even sweeter would have been seeing the President and First Lady cycling down Pennsylvania Avenue!"
DDOT's Twitter account retweeted a photo posted by @FLOTUS, writing, "See that?! See that?! NO, not that great coat, the bike lanes!!!"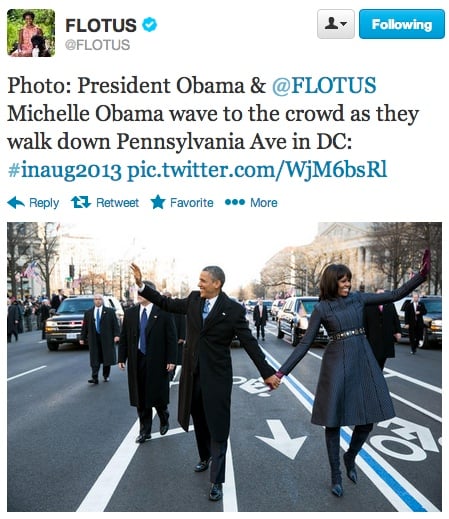 Lisle says DDOT has received plenty of congrats and "positive stories" through social media and online. The Seattle Bike Blog even gave the Pennsylvania Avenue bike lane some love.
As the nation watched President and Mrs. Obama parade down Pennsylvania Avenue from the US Capitol to the White House, viewers got a clear view of the bike lane that runs down the middle of the avenue. The cycle track was installed after 2009, making Obama the first President to walk down a bike lane on Inauguration Day. In 2009 there were no cycle tracks in the District, and the Capital Bikeshare program was nonexistent.
Since then, the District has become one of the most bike-friendly cities in the nation, with DDOT installing more than 14 miles of bike lanes in the last few years, including the new cycle track on L Street, Northwest. The city plans to add about 30 more miles of bike lanes in the next few years.