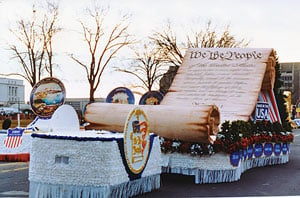 The Statue of Liberty lives with a cootie.
Or rather, a model of the New York City landmark and a giant
rendering of the title character from the Milton Bradley game Cootie. The
two icons share space at the American Celebration on Parade, a curious
collection of rousing Americana in Virginia's Shenandoah
Valley.
Inside the warehouse/museum are the products of a lifetime of
imaginative thinking—the floats that Earl Hargrove Jr.
has been sketching, building, and driving for more than 60 years, from
dragons to trains to an American flag as large as a theater
stage.
Visitors are greeted by 20-foot-high carousel horses, a
30-foot-tall grinning jester, and a 25-foot-high bust of a woman, crowned
and dazzling. A dragon that looks as if it could breathe fire is crammed
in with larger-than-life toy soldiers, an American eagle the size of a
small prop plane, and a pirate's ship as long as a tractor-trailer.
Ringing the walls are the seals of every presidential inauguration from
Truman's to Obama's, the remnants of now-recycled floats made on-site by
the Hargrove team. Presidents and First Ladies stood on these floats—and
now the public can.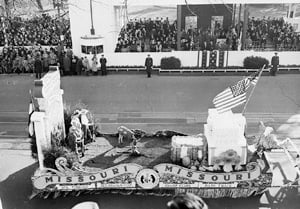 But there's a reason the objects are in a museum. While
inaugural parades carry on, the golden era of floats has passed, and the
multi-level sequined and flashing mobile jubilations seem out of place
amid today's more toned-down celebrations. Three of Obama's six inaugural
floats in 2009 had been used previously, one in a non-inaugural
parade.
Blame balloons, which have become more popular, or the floats
themselves, which are increasingly expensive. "Back when we started, if
you had $1,000 or $1,500 for a float, that was a lot of money," Hargrove
says. "Today they can run as high as $200,000 or $300,000." Most, he
notes, cost $25,000 to $75,000.
Hargrove, known as "the President's prop man," built Hargrove
Inc. on the backs of floats, creating a thriving, Lanham-based company
that now manages myriad events for the inauguration, from balls to signs.
But floats remain his love, and when he passed the company to daughter
Carla Hargrove McGill and son-in-law Tim
McGill in 2008, the octogenarian kept the American Celebration on
Parade museum for himself.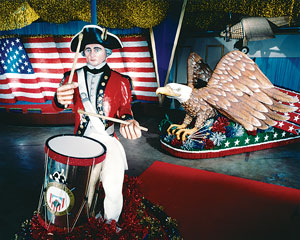 Although he realizes the future of floats is uncertain,
Hargrove isn't ready to give up on his life's passion. (This year's
inauguration was the 17th he has worked on.) "The past two or three
inaugurals, the floats have become less important," he says. "But as long
as the inaugural committee wants them, we'll build them."
January's floats, which were created in just weeks, might
eventually find their way to the American Celebration on Parade—just as
holiday ornaments gravitate to the attic—where they'll remain available to
the public year-round.
"The float business really in many ways has changed," Hargrove
says. "It's just like the whole world has changed."
This article appears in the February 2013 issue of The Washingtonian.