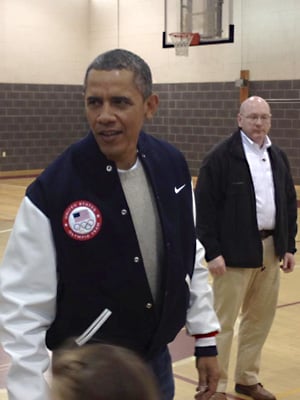 A week after the inauguration and a week before the Super Bowl—meaning a Sunday with not much to do—both President Obama and First Lady Michelle Obama and former President Bill Clinton, and his wife, Secretary of State Hillary Clinton, were spotted enjoying typical Sunday pursuits, and their paths nearly crossed.
The Obamas, with daughter Malia, showed up Sunday morning at a recreation center in Bethesda to watch Sasha's Sidwell Friends School team compete against the North Bethesda Middle School. Sidwell won 15-11. A North Bethesda parent posted an amusing message with pictures on Facebook: "Just a typical Sunday morning in Washington, DC at (the) basketball game and then the President of the United States walks in & Michelle, too." Many Sidwell parents will tell you that's not unusual of the President and First Lady.
Later, when the President was returning to the White House, his motorcade passed a couple walking along Massachusetts Avenue, according to a White House pool report. The couple were the Clintons, walking a dog. Someone else who spotted the Clintons said they were holding hands and described the dog as a "brand new fluffy golden retriever puppy." Secretary Clinton was wearing a "long red coat." They were followed by "several agents."
Bill Clinton's dog, Buddy, a chocolate lab, died in 2002 after it was hit by a car outside the family home in Chappaqua, New York. A few years later, Clinton got another chocolate lab, which he named Seamus.