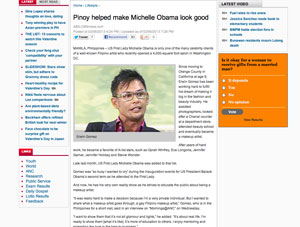 When it comes to his role in her life, Washington makeup artist
Carl Ray is a lockbox about his appointments with First Lady
Michelle Obama. But while he's discreet,
others talk, so it is quietly known that he does her makeup
for public appearances and special occasions, including all her
appearances for the
recent inauguration.
So it was interesting when an item appeared last week
on a news site in Manila,
proclaiming her makeup artist to be DC-based
Erwin Gomez, who is a native of the Philippines. The ABS-CBN News quoted Gomez as saying that
during inauguration events he was "so busy I wanted to cry."
It was the item's lead sentence that got attention among the fashionista set back
in Washington: "US First Lady Michelle Obama is only one of the many celebrity clients
of a well-known Filipino artist who recently opened a 4,000-square-foot salon in Washington."
Gomez's representative insists the website misinterpreted comments he made in a television
interview in which he reportedly said "he did the First Lady's family" during the
first term. "This has been cleared up with everyone," the rep said.*
So what gives? Who is the First Lady's makeup artist? According to the White House
it is not Erwin Gomez. A White House official Monday morning, in a phone conversation
with
The Washingtonian, confirmed unequivocally, "Carl Ray is the First Lady's makeup artist."
Gomez was visiting in the Philippines for the past two weeks, according to his rep.
The ABS-CBN report noted, "Despite his success in the US, Gomez never fails to return
to his roots and makes it a point to visit the Philippines often."
Last year Gomez opened Karma, the successor to the Erwin Gomez salon he operated in
Georgetown with former partner
James Packard Gomez, a relationship that ended in a legal morass that forced the closure of the salon.
Ray works out of the George at the Four Seasons salon at the Four Seasons Hotel in
Georgetown. He started doing the First Lady's makeup early in the first term after
a colleague recommended him. When we reached out to him Monday he said through a spokesperson,
"The reason I'm successful is that I don't comment when I'm asked to comment."
*This post has been updated from a previous version.