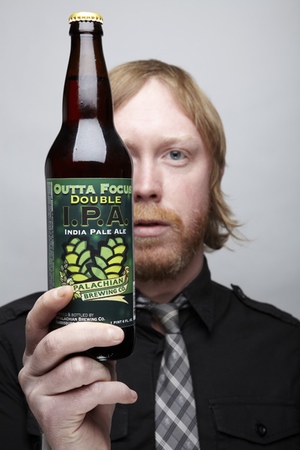 Some people think about what beer and wines to pair with their food every day. Others think about it, like, once a year—on Valentine's Day, for instance. Whichever side you fall on, this list should help you find something to drink alongside that extravagant home-cooked feast.
We dreamed up eight Valentine's Day menus—all of which, given a little preparation and patience, are totally doable at home. Then we challenged Greg Engert and Brent Kroll—the lead beer and wine experts at the Neighborhood Restaurant Group (Birch & Barley, Evening Star Cafe, Vermilion, and more)—to come up with suitable pairings for each. They went above and beyond with some inspired choices to ensure your February 14 dinner really stands out. Call the fine wine and beer store near you to find out if they stock the selections below—then get cooking.
You're cooking: A classic beef bourguignon.
Greg suggests: Abbaye de Saint Bon-Chien, Brasserie Franches-Montagnes, Switzerland
This annually released ale is composed of strong, soured red ales aged in countless wine and spirit barrels, then masterfully blended. What results is a vinous brew, one that dovetails with the red wine braising liquid. The acidity of Bon-Chien—which digs into the stew—is balanced by toasty, oaky sweetness that mellows the tang of the garlic and herbs while complementing the rich flavors of the braised beef.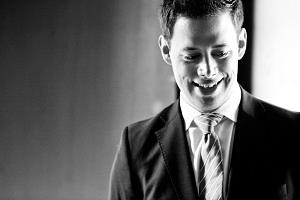 Brent suggests: 2003 Chateau Musar, Bekaa Valley, Lebanon
With a dish like this, it's easy to lean toward Rhone or Bordeaux varietals. This wine is a blend of both that has bottle age, earth, very ripe fruit, and spice. Although the dish originates from Burgundy, it's a little strong for most Pinot Noirs. The Musar is tailor-made for the weight and secondary notes of mushrooms, onions, and garlic usually found in the dish.
You're cooking: Filet mignon with mashed potatoes and braised greens.
Greg suggests: Ayinger Celebrator, Privatbrauerei Franz Inselkammer, Germany
As filet mignon is a lean cut with restrained flavor intensity, I like a brew that is potent yet composed, bold without being big. Doppelbocks, like Celebrator, offer just the right amount of dark bread, toffee, and candied fruit to simultaneously sauce the dish and echo the caramelized (i.e., seared) exterior of the steak.
Brent suggests: 2010 Barboursville Barbera Reserve, Virginia
This is my go-to winery for red wine from Virginia. Barbera is often a tart, fruity, medium-bodied wine that can exhibit subtle or strong earth notes. As Greg points out, with a lean cut of meat like this you don't want to go overboard with the weight or power of the beverage. This wine has pleasant red fruit and subtle earth, and won't overtake the dish.
You're cooking: A chicken dish with a creamy sauce—like fricassee or poulet a la Normande.
Greg suggests: La Fin du Monde, Unibroue, Canada
La Fin du Monde opens with bready, cake-like qualities that will be as work in beautiful congress with the white cream sauce and the chicken. Aromatic notes of apple and pear draw out a delicate fruit note from the poultry, while a bouquet of spices—think clove and white pepper—serve to further season the dish tableside.
Brent suggests: 2008 Falesco "Ferentano" Lazio, Italy
When a dish is rich and soft with notes of cream or butter, it's often wines with toasted oak notes that really complement what's already in place. The Falesco is nothing like a standard light dry Italian white—it has the body to please a Chardonnay drinker, with notes of charred pineapple and toasted barrel. It's a great way for a new-world Chardonnay fan to mix things up.
You're cooking: Miso-glazed salmon steaks with bok choy.
Greg suggests: Orval Trappist Ale, Brasserie d'Orval, Belgium
This dish is all about briny, meaty, mildly funky umami qualities . . . just the thing for one of the most versatile craft beers around, Orval. Orval has everything: bright fruit aromas, a nutty sweetness that turns earthy dry with a touch of tartness, and grassy, peppery, rustic notes throughout. Of particular note is the brew's finish: herbal, acidic, bitter, effervescent—perfect to dig into the fish, balance against the salt, and meld with the leafy green texture of the bok choy.
Brent suggests: 2004 Zind-Humbrecht, Gewurztraminer, Alsace, France
Salmon is a fat, soft, flavorful type of seafood that can dance on the side of white or red wine. When you add in the miso and bok choy element, it makes me want to move toward white. Zind-Humbrecht make some of the most extracted wines in all of Alsace—the oily texture and the weight of this one will not only work great with the salmon, but will play nicely off the miso, too.
You're cooking: Veal osso buco.
Greg suggests: Schlafly Bière de Garde, Saint Louis Brewery, Missouri
Veal is tender and offers some delicate flavors that can get overwhelmed by a too-intense brew. Schlafly Bière de Garde, based on the classic northern French style, is malt-driven, with an almost caramelized sweetness followed by a biscuity dryness; this base component shines along with the meat's flavor, as well as with the broth of the stew. A surprising effervescence brightens the osso buco, and is further effective in lightening the traditional risotto—or polenta—accompaniment.
Brent suggests: 2007 Moraitis, Paros Reserve, Aegean Island, Greece
When I think of this spiced, stew-like dish, I want something with tannins and ripeness of fruit. This wine has strong tannins that will be softened by the fat in the dish. If you do a modern version with tomatoes, it will work well with those, too. Spice can increase the perception of alcohol, and so the relatively lean 12.5 percent alcohol by volume on this wine is another thing to count in its favor.
You're cooking: Pork belly with sake-braised clams and truffles.
Greg suggests: Sorachi Ace, Brooklyn Brewery, New York
Bright, spicy lemon zest in a glass, Sorachi Ace is a classic saison finished with Japanese-grown Sorachi Ace hops. Refermented in the bottle for a bubbly Champagne quality, this brew will slice right through the fatty pork belly. The bone-dry finish, with its earthy and peppery intensity, works nicely with the truffles and sake braise while providing a counterpoint to the briny clam (a sort of salt-and-pepper effect). Finally, the citric aromas, provided by the eponymous hop—as well as fermentation-driven notes—livens up the dish just as a squeeze of a lemon wedge would.
Brent suggests: 2008 Marc Tempe, Saint Hippolyte, Riesling, Alsace
This is more of a contrast pairing—the Riesling will add a lighter touch to the pork belly. Its slightly off-dry fruit will also play off of the saltiness in the pork. The earthiness in the truffle can play off of the strong minerality in the wine. In terms of the clams, this is more of a palate cleanser.
You're cooking: Wild-mushroom risotto.
Greg suggests: Dark Abbey, Devils Backbone Brewing Company, Virginia
The felicity of Belgian-style dubbels and mushrooms is nearly unparalleled in the world of beer-and-food pairing. And lucky for us, we have a brand new local—and delicious—dubbel that is up to this task. Devils Backbone, nestled among the Blue Mountains of Virginia, conjured Dark Abbey to demonstrate a figgy dryness, some caramel sweetness, and hints of clove spice. The darker malt interplay with the full-flavored mushrooms is not to be missed.
Brent suggests: 2005 Giuseppe Cortese, Rabaja, Barbaresco, Piedmont, Italy
Although this is a great producer, Nebbiolo is the important part of this pairing. This grape, which is named after the fog in its vineyards, has very high acid and tannin. Where tannin goes on the roof of your mouth is where the risotto is going to go, too. The will make both seem less intense; its acidity makes a great palate cleaner. This wine also has earth notes of rose petals and forest floor that add additional complexity.
You're cooking: A chocolate torte with raspberry compote.
Greg suggests: Victory at Sea, Ballast Point Brewing Company, California
A complexly layered strong Porter, Victory at Sea offers milk chocolate and custard-like vanilla cream notes to embolden the flavors inherent in the torte. But rather than merely mirroring those flavors, this Imperial Porter also brings a dash of espresso to the mix, livening up—and evolving—the dessert.
Brent suggests: Domaine la Tour Vielle, Banyuls, France
When it comes to pairing chocolate, people rarely look past port, but Banyuls is often a less pricey alternative for a port drinker. This wine has notes of candied plum, dried cherries, and chocolate (without any infusion). Think of this pairing as more of a hug than a contrast—all the better, given the occasion.
See also:
Valentine's Day in Washington 2013
5 More Unusual (but Still Romantic) Valentine's Day Ideas
13 Places to Buy Good Valentine's Day Chocolate