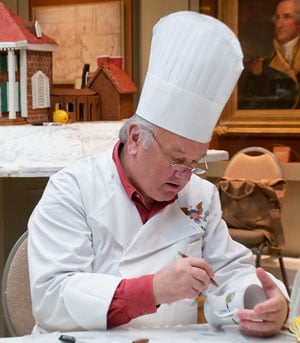 Is inviting a guest chef to cook at a White House dinner a slap in the face to White
House executive chef
Cristeta Comerford and her staff? Are the celebrity chefs who accept the gig doing it only for promotional
reasons?
Roland Mesnier, who was White House executive pastry chef for 25 years, is emphatic in his answer
to both questions: yes.
In a panel discussion about First Ladies hosted by the White House Historical Association
Monday at Decatur House, and recorded by C-SPAN, Mesnier made his feelings perfectly
clear.
"I am the chef of the White House, who does everything for the family and guests,
day in and day out, but the day that I can shine I'm told that somebody else is coming
in," he said. "I take it as a slap on the face as being White House chef." He compared
it to him asking to be President for a day. "I don't believe in that, and I never
will, because this is my job, and I would like to shine once in a while—and this is
my chance."
In 2010, the Associated Press reported President
Barack Obama and First Lady
Michelle Obama "have broken new gourmet ground by inviting in a steady stream of the nation's top
culinary talents."
Top Chef Masters winner
Marcus Samuelsson, for example, prepared the Obamas' first state dinner for the prime minister of India.
Other celebrity chefs who have cooked at the White House include
Bobby Flay,
Rick Bayless,
Mario Batali,
Emeril Lagasse,
Guy Fieri, and two well-known Washington chefs,
José Andrés and
Todd Gray.
Mesnier said the chefs who accept the guest role are doing it "for one thing only:
to promote their establishment, if they have one, or where they are chef. That's the
only reason they come." He feels without the promotional angle the opportunity is
less attractive. "If you would tell those guys that they cannot publicize them being
at the White House, how many do you think would show up?"
It was clear he did not want to put Comerford on the spot, but after one panelist
called the guest chef practice a collaboration, he said, "That's all fine and good.
Of course, if you go ask Crista, [who] is a wonderful chef, she's going to agree with
you . . . but deep down, what does she really feel? That's another story." Publicly,
Comerford has said she appreciates having a guest chef in her kitchen.
Mesnier, who is a native of France, is popular on the speakers circuit because he
is not shy about recalling his years at the White House, and saying exactly what he
thinks. He has published four books, including the cookbook
White House Desserts and
All the President's Pastries, a memoir. He was hired by First Lady
Rosalynn Carter in 1979 after three years as executive pastry chef at The Homestead resort in Hot
Springs, Virginia. He remained at the White House through the first term of
President George W. Bush. His website includes accolades from Carter,
Nancy Reagan,
Barbara Bush,
Laura Bush, and
Hillary Clinton.
The panel on which he appeared was moderated by presidency scholar
Martha Joynt Kumar, who is on the board of the Historical Association. She was joined by a group of
experienced former White House staffers who worked with several first ladies.
Anita McBride was chief of staff to Laura Bush;
Gary Walters was assistant usher and then chief usher, dating back to 1976;
Susan Sher, who was chief of staff to Michelle Obama in the first term; and
Betty Monkman, who was chief curator.
Mesnier's comments about the guest chefs came after he asked both McBride and Sher
what they thought of the practice. Sher said, "As long as the staff, the household
staff, and the kitchen staff, is comfortable and sees it as an opportunity to share
their experience with an outside chef, I think it could be fine and actually kind
of fun." Sher said, "In every situation where they have been guest chefs there's a
collaboration. . . . These collaborations showcase the best of American cuisine."