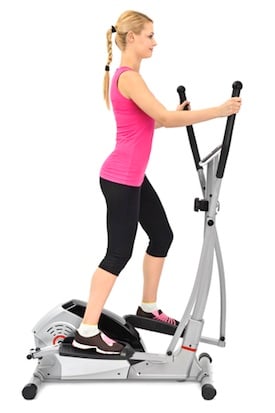 A jaunt on the elliptical is a great way to give your achy joints a break every once in awhile. Unfortunately, more often than not the workouts we do on them become utterly monotonous.
Fortunately, there are some simple tactics that can provide a boost to your elliptical workout, says local personal trainer Elizabeth Brooks. "The wide variety of inclines and resistances make it an extremely versatile and effective piece of equipment."
Brooks shared with us one of her favorite elliptical workouts, which requires use of a ten-digit phone number—whether it's your own or that cute guy or girl's number you snagged at last night's boot-camp session. "I love this workout because it's so easy to change up your workout every time" if you choose a different phone number, says Brooks.
The 10-Digit Elliptical Trainer Workout:
1) Set the resistance on the elliptical to match the first digit of the phone number. Keep your incline at the standard setting. Pedal at a consistent pace over 100 RPMs (revolutions per minute) for 1 minute for each corresponding number. (Add a 1 in front of all the 0s and 1s that might be in your phone number.) One set is 10 minutes.
2) Repeat set for each additional 10 minutes you'd like to add.
Example: 202-599-5178
Resistance Level 2 x 1 minute
Level 10 x 1 minute ("Don't forget to maintain the same speed as you were doing for Level 2," says Brooks. "That's the hard part!")
Level 2 x 1 minute
Level 5 x 1 minute
etc.
Are you a Washington-based personal trainer with a great workout? Send it to wellbeing@washingtonian.com and it could be featured in our Fit Check series!