One might call Steve Mekowski a mad scientist. He is, after all, the mastermind behind Goûter, the line of raw and vegan products you may have noticed popping up at your local gym or yoga and cycling studios.
Within the past year, local athletes from every realm—cyclists, yogis, runners—have gone gaga for Goûter, which means "snack" or "taste" in French. But while the brightly colored drinks may look like an average part of the juice craze that's hit Washington, Mekowski and partner V Orban want you to know there's a big difference in the products' ingredients.
"Yoga studios and gyms typically only sell water or sugary drinks," says Mekowski, a former culinary chef. "I wanted to create a drink that is lighter than juice and more medicinal." Enter Goûter tonics, raw and vegan bottled drinks that Mekowski created after Orban developed a stomach ulcer and realized she'd have to take medication for the rest of her life.
The key difference between these tonics and juices is the water content. While the majority of a juice contains sugars from fruits and vegetables, the tonics' main ingredient is alkaline water, with a pH content of 9.5 (most water measures a neutral 7). Why does the high alkaline content matter? Because bacteria and disease can't grow in alkaline conditions, explains Mekowski.
Using the alkaline water as the base, Mekowski adds a variety of superfoods, spices, and herbs to the tonic, from the ever-popular kale to cayenne pepper to spirulina, a blue-green algae that is the most nutrient-dense vegetable in the world. The result is a line of nine tonics, each named with an active verb, such as Stretch, Protect, and Digest.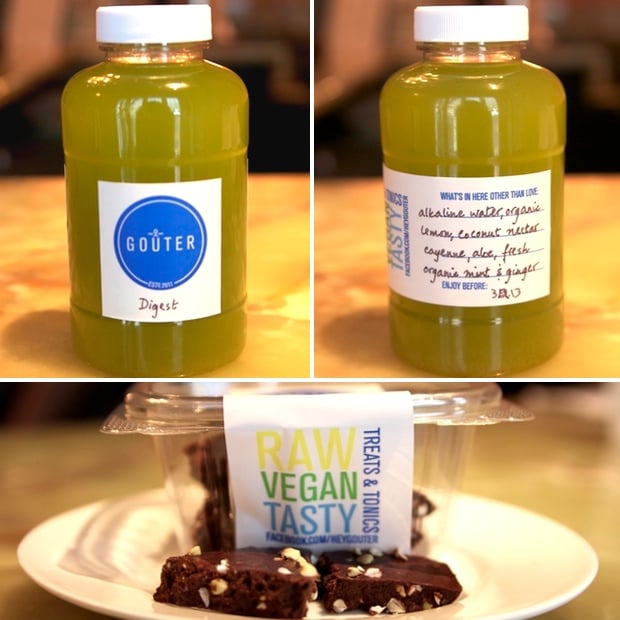 "They're designed for what we found we were lacking throughout our day," Mekowski says of his and Orban's thought process when developing the tonics. The Active tonic, for example, is meant to be used as a natural substitute for coffee or caffeine in the morning. Stretch is a favorite among athletes to drink before a workout to open up the joints, thanks to its anti-inflammatory ingredients, including turmeric, along with cardamom, vanilla, black pepper, and coconut nectar. The most popular tonic, Digest, goes down easily after a workout.
The popularity of the tonics—plus their lesser-known raw and vegan chocolates and sprouted salads—is evidenced by Orban's inbox, which is often flooded with what she's dubbed "Aha!" e-mails. Athletes tout the tonics for easing aches and pains, while others owe their lack of cravings for meat or sugary treats to doing a three-day Goûter cleanse.
You'll find Goûter tonics at a number of local gyms, including Mint, ZenGo Fitness, and Tranquil Space, and the duo have their eyes set on expanding to big-name businesses like Whole Foods. But despite their growing success, Mekowski says they'll never forget their small-business roots: "We'll always want to take care and support small, local businesses."
Goûter's three-day cleanse is $125 and comes with six tonics per day. Single bottles range from $6 to $7.