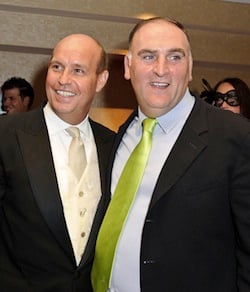 Tuesday, March 12 is the night to catch local luminary José Andrés on the ABC culinary competition series the Taste. A two-hour season finale will feature the Jaleo and Minibar toque in the role of guest judge.
The Taste, which premiered on January 22, has whittled its contestant pool from 16 to four over its first season. Amateur and pro cooks complete individually and in teams. The four judges—Anthony Bourdain, Nigella Lawson, Ludo Lefebvre, and Brian Malarkey—double as mentors for the contestants. Each episode, the judges assess competing cooks' food via blind tasting, so that they are not prejudiced against members of their own teams. In fact, none of Lawson's mentees made it into the final four.
ABC is featuring an interview with Andrés on its site in which he talks about why Jaleo has been a success and trots out his favorite Winston Churchill quote: "Success is going from failure to failure without losing enthusiasm." Says Andrés in the Q&A: "These are words I live by." The show airs at 9 PM.