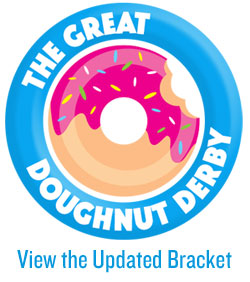 Happy Thursday, friends of the fritter.
Something big happened: We have reached the end of the first bracket row of round one. There must be considerable excitement about newbie Astro, because the about-to-open doughnut-and-fried-chicken destination walked away with the win on Wednesday, beating Founding Farmers to take on Al Dente in round two. That should prove a fierce match, as fans of both pastry makers showed up in droves to support their favorite fried-dough supplier.
Now it's time for our next contest. Food truck Mac's Donuts specializes in made-to-order apple cider 'nuts, while Fabio Trabocchi's modern Italian restaurant Fiola serves addictive ricotta-stuffed bombolini. Who will move on? Well, that's up to you, really. As always, be sure to cast your vote before 5 PM, when the poll closes.