The Dupont neighborhood has no lack of sports bars, but if rowdy venues like Mad Hatter and Buffalo Billiards feel a bit too college-y for your taste, consider the Gryphon, the latest venture from the team behind Lost Society. As the mythological creature for which it's named is part eagle and part lion, the new spot is a hybrid of sports bar and gastropub—the idea is to appeal to food fans as much as the crews who come to watch the game. Here's what to expect.
Thirty-one televisions. Low lighting. That guy who screams at the players like it makes a difference.
The Gryphon isn't yet officially open for a midday meal—both weekday lunch and brunch will be rolled out in the coming weeks—but it is opening its doors at 11 AM each day during the NCAA Tournament and serving the full evening menu with afternoon-friendly options such as a tomato soup and grilled cheese combo or a steak salad with fried green tomatoes and smoked shallot vinaigrette. Liquid lunchers will be happy to find $5 Captain Morgan cocktails.
Gator bites and Korean tacos
Sure, you'll still find sports bar staples like wings and sliders, though even the usual suspects get a twist. Asian-style drumettes are glazed with chili-soy sauce; mini burger options range from beef patties topped with pickled jalapeño, pepper jack cheese, and bacon to crawfish cakes with remoulade. Chef Joseph Evans concocted a menu designed with both snacking and dining in mind. You can belly up to one of two bars and order crispy alligator bites tossed with Sriracha mayo and pickled radishes—they taste like Korean fried chicken—or marinated short-rib tacos topped with house-made kimchi. Many of the bar bites could act as appetizers for a main meal in one of the cushy booths or tables. Possibilities include a heap of fried oysters dressed in smoked maple hot sauce, or kale salad, followed by filet au poivre or Scottish salmon with roasted maitake mushrooms and tomato beurre blanc.
Lodge-chic decor and (mostly) silent TVs
Decor breaks from the sports-bar mold with chandeliers fashioned from antlers, rustic wood floors, and elk and deer skulls mounted on the walls. As at most game-focused watering holes, a bevy of televisions casts a glow over the space, but the difference here is these flat-screens are set to mute with closed captioning, which allows for conversation. (The volume will be turned on during big-time games such as the NCAA championship game or the Super Bowl.)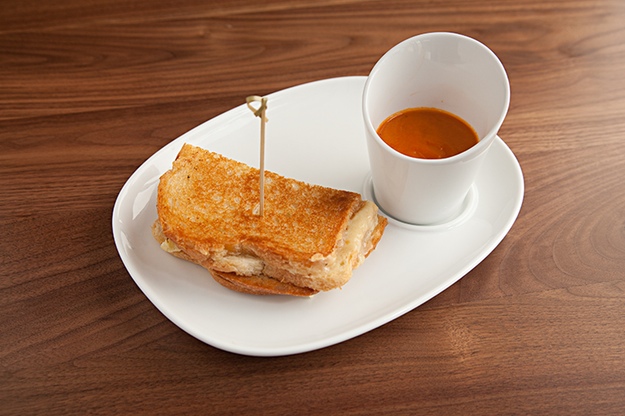 Cocktails and evening entertainment
No sports bar is complete without discounted Bud and Miller Lite during happy hour. Here, they are $3 a pop from 5 to 8 Tuesday through Friday. But that's just the start: You'll also find craft brews from Starr Hill and Victory Brewing Company, wines and Champagne by the glass, and cocktails devised by P.O.V. at the W barman Marco Maffeo. Tropical sips include gin with fresh watermelon juice and basil and a riff on the Painkiller: a Virgin Islands staple with rum, pineapple, coconut milk, and grated nutmeg. A deejay starts spinning after 10 on weekends. There is no plan to charge entrance fees.
Patio dining
Once warm weather finally arrives, you'll be able to dine outside. The team is in the process of constructing a glass-enclosed area out front for 26 guests who prefer people-watching to staying glued to the tube.
The Gryphon. 1337 Connecticut Ave., NW; 202-827-8980. Tuesday and Wednesday 5 PM to midnight, Thursday through Sunday 11 AM to last call. Closed Monday. Call ahead for special hours during sports events such as the NCAA Tournament.