Food trucks and brick-and-mortar restaurants may sometimes go head to head vying for customers, but the two entities are far from mutually exclusive. Restaurateurs José Andrés and Darren Lee Norris have brought their food to the streets through Pepe and Kushi-moto, while the vendors behind Pleasant Pops, Porc Mobile, District Taco, and Seoul Food have all opened eateries after proving themselves on the streets. The most recent owner to make the move from truck to table: chef Stephan Boillon of El Floridano who just opened his first restaurant, Mothership, in Park View.
Boillon won fans with eclectic street eats like bánh mì and hearty Cubans back when he opened Flo in 2010 at the very start of DC's food truck movement. At the cozy 43-seat restaurant, the menu still draws inspiration from global traditions and among the dishes are nods to Boillon's beginnings—a Cuban pizza, for instance, spread with mustard béchamel, Swiss cheese, roast pork, ham, and pickles. Comfort dishes like baked potato soup and catfish over cheese grits with tasso ham gravy are joined by more adventurous fare, such as herb gnocchi with slow-cooked beef tongue ragout and bucatini tossed with braised wild boar. The truck's modest pricing carries over; Mothership's big splurge is a $28 whole roasted organic chicken with collards and a choice of a second side dish. Most appetizers clock in under $10 and entrées are mostly below $15.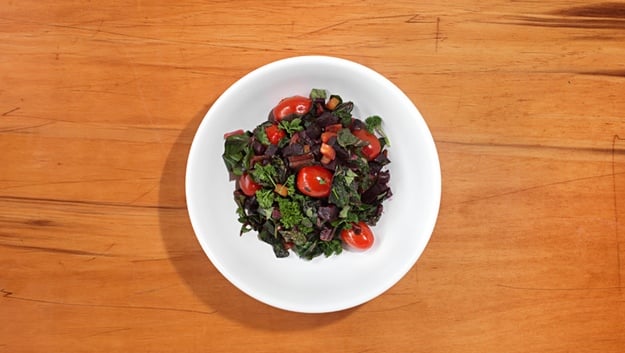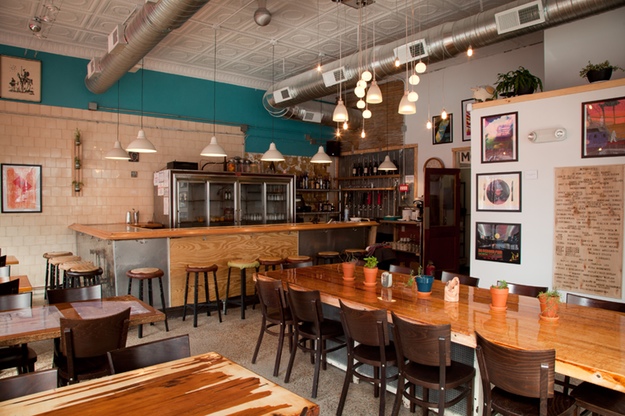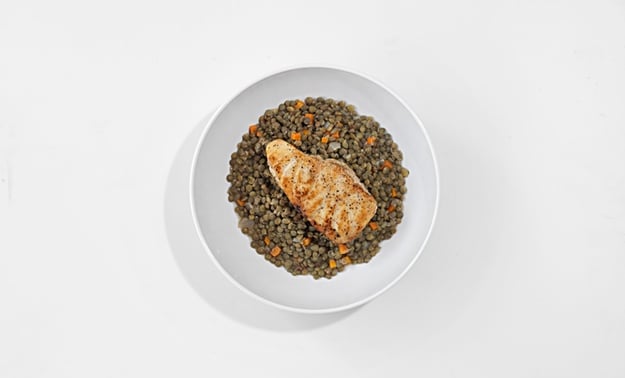 Vegetarian options at Mothership include herb gnocchi with mushrooms and leeks, and miniature Jamaican-style patties filled with calabaza squash and cotija cheese. The latter is a nod to former tenant Brown's Caribbean Bakery, which inhabited the space for years and doled out similar stuffed pastries. Boillon and his crew gutted and rebuilt the interior, but made use of materials from Brown's. Old doors became tables, windows were exposed under old roofing, and even the bulletproof Plexiglas panels that once shielded the cashier now serve as a base for a decorative hanging lamp that illuminates a large communal table. A full wholesale bakery is also in the works, and Boillon hopes to bake a number of Caribbean breads once sold at the shop, as well as all the pastries and rolls for the restaurant, the El Floridano truck, and for other vendors.
Once dinner service is running smoothly, Boillon plans to roll out lunch and weekend brunch, where you'll see more of those breads for sandwiches and in dishes like classic eggs Benedict. A 44-seat outdoor patio is also in the works for a springtime debut, which will nearly double the size of the operation. In the meantime, you can enjoy the latest addition to the restaurant: local beer, wine, and liquor, which arrived last week with the restaurant's license. Drinks won't break the bank, with glasses of wine and most cocktails under ten bucks. House infusions such as rum soaked with papaya and spices are currently brewing, while you can sip a mule made with the spirit of your choice (we like gin) mixed with house-made ginger purée and club soda.
Mothership. 3301 Georgia Ave., NW; 202-629-3034. Open Tuesday through Thursday 5:30 PM to 10 PM, Friday and Saturday 5:30 to 11, and Sunday 5:30 to 9. Closed Monday.
See also: