The holidays came and went, but the holiday season brought little joy to Mudville.
Despite the pleasant distraction of watching the Redskins reach the NFL playoffs, aficionados of the national pastime were still reeling from the Nationals' ninth-inning, season-ending Game 5 meltdown against the St. Louis Cardinals in the National League division series.
Their healing process began in earnest on Sunday, January 6—during a football game. As a national audience watched with unfolding dread, the Redskins' coaching staff undermined their team's chances of winning a playoff game against the Seattle Seahawks, risked the career of their star quarterback, and compromised the future of their franchise—all in one fell swoop—by leaving Robert Griffin III in the game after he was injured and could neither run nor pass. It was an inexplicable decision, only partly attributable to pro football's macho mentality.
Across Washington, a prayer of gratitude escaped the lips of baseball fans: Thank God for Mike Rizzo and Davey Johnson. In the heat of the pennant race, they had shut down the ace of their pitching staff—despite his protestations—because they believed it was in his, and the team's, long-term interest. And they willingly took heat for doing it.
• • •
Baseball is a sport obsessed with numbers, and by most statistical measures 2012 was a fabulous year for the Nationals.
Attendance averaged 30,000—in the middle of the pack but much higher than any season since 2005, when Major League Baseball returned to Washington after a 33-year hiatus.
The pitching staff gave up only 3.33 earned runs per game, the fewest in the National League, and notched the third-highest number of strikeouts. The Nats won 98 games in the regular season, the most in the majors. They won their division for the first time.
Those successes translated into individual achievements, including a Manager of the Year award for Davey Johnson and Rookie of the Year for 20-year-old Bryce Harper. Ace pitcher Stephen Strasburg came back from reconstructive surgery to win 15 games; lefty Gio Gonzalez went 21-8 in his first season with the team and finished third in the Cy Young Award voting.
Yet these numbers and accolades don't come close to capturing the magic of the 2012 season.
"Baseball isn't statistics," Jimmy Breslin once observed; "it's Joe DiMaggio rounding second base." Joe DiMaggio never played in Nationals Park, but last season fans here got to see Strasburg do his Walter Johnson imitation, shortstop Ian Desmond have his breakout year, and team leader Ryan Zimmerman fight through a shoulder injury to anchor the lineup. Most exciting of all, they watched as Harper turned the baseball diamond in Southeast DC into his personal playground.
You knew this season was going to be special the first week of May. In a nationally televised game, Phillies left-hander Cole Hamels nailed Harper in the back with a 93-mile-an-hour fastball. Hamels has terrific control, so everyone on the field knew he'd done it on purpose. Hamels, as he later conceded, was sending a message: Hey, rookie—you may have been on the cover of Sports Illustrated, but we're the defending division champs.
Harper sent back a message of his own. After racing from first to third on a Jayson Werth single, he watched as Hamels tossed the ball to first in an effort to keep Werth close to the base. When Hamels did it a second time, Harper broke for the plate, sliding in safely. Stealing home is the most exciting play in baseball, and this was the stuff of pulp fiction.
He wasn't done, either. Harper singled and doubled in two more at-bats, and he made a diving catch in left field to prevent a run from scoring. If Philadelphia was trying to get a fix on what they were up against in Bryce Harper, they found out.
So did the rest of the Nats, who visibly picked up the pace when their precocious rookie arrived in town. Dramatic comebacks and unlikely heroics became the norm. Every Nats fan had a favorite moment.
July 5: Trailing the San Francisco Giants 5-4 in the ninth, three rookies—Tyler Moore, Steve Lombardozzi, and Harper—all get on base. With one out and the bases loaded, Adam LaRoche hits a double-play ball, but the relay is booted and Harper scoots home with the game-winning run. The Nats pour out of the dugout, surrounding LaRoche, an avid deer hunter, and holding their hands over their heads like antlers.
August 7: The Nats lead 3-2 in the bottom of the 12th inning in Houston. Two are on and two out when Astros first-baseman Brett Wallace blasts one into Minute Maid Park's outfield. Centerfielder Roger Bernadina sprints toward the fence and leaps into the air, landing behind a pole in the field, wedged up against the fence—and, for a second, out of camera range.
The play is going to end the game one way or another: Either both runners score and the Nats lose or Bernadina makes the play and they win.
Nats television announcer Bob Carpenter has the call: "Bernadina. . . . He's got it! He made the catch and the game is over!"
"Are you kidding me?" chimes in color man F.P. Santangelo, a former major-leaguer. "I've never seen anything like that in my life."
October 11: With the score tied 1-1 in the ninth inning of Game 4 in the NL division series, Cards right-hander Lance Lynn gets two quick strikes on Werth. Lynn throws two pitches out of the strike zone, trying to get him to chase a bad pitch. He doesn't. Werth then fouls off six consecutive pitches before Lynn barely misses with a breaking ball. Werth doesn't bite.
Then, on the 13th pitch, with the count 3-2, Werth hits one over the fence. He charges around the bases, leaping into the arms of his teammates, and the city's sports bars and living rooms erupt in joy. Washingtonians have just witnessed their first home victory in postseason baseball since 1933.
• • •
My own favorite moment of last season involved a Jayson Werth home run, too, but for that one you have to go back to a meaningless spring-training game in Melbourne, Florida, against the New York Mets.
Space Coast Stadium, where the Nationals train and play in the spring, is only a short drive from my sister Judy's house, and last year on a sunny March day we sat in the stands with a couple of thousand other fans. Our seats were next to the New York Mets dugout, giving us a front-row seat when Werth hit a first-inning tape-measure bomb over the left-field fence. Thomas Boswell of the Washington Post later calculated that the ball, which reportedly hit Werth's own truck in the parking lot, traveled 492 feet.
"Hey, coach!" I called out to Mets pitching coach Dan Warthen as he returned to the dugout after calming his pitcher. "That ball needed a flight plan!"
I got an involuntarily smile out of Warthen, and my sister laughed. It was the first time I'd heard her do that in months—the first time, actually, since her son Nathan, my godson—died suddenly at age 20 of a drug overdose.
We are a baseball family, and Nathan was a Boston Red Sox fan, going back to his boyhood in New England. For Mother's Day a couple of years before he died, Nate took his mom to a tattoo parlor so she could get the same Red Sox "B" on her ankle that he sported. This logo will forever remind her of a great day—and of life's most painful loss.
Spring comes every year, however, and with it new hopes. Again this March, I took my sister to Space Coast Stadium. She had recently welcomed her first grandson into the world. He's being groomed to be a center-fielder and has the first name—Jacoby—to prove it. His middle name is Nathan.
This year at spring training, as elected officials in Washington hurled talking points at one another over the sequester debacle from behind their partisan barricades, I found myself wondering whether baseball's restorative powers are great enough to help bridge America's seemingly intractable political divide.
The political polarization in Washington has made civil discourse, let alone meaningful compromise, all but impossible. With fewer shared cultural touchstones, it's difficult for liberals and conservatives to find a common language. But as our baseball team has improved, Nationals Park has become that portal.
Conservative columnist Charles Krauthammer recalls unexpectedly meeting—in the greenroom at Fox News—a Washington official he'd savaged. Krauthammer knew the politician was a fellow baseball fan, so he did what any season-ticket holder would do—he brought up the Nats. "I can't believe they traded Josh Willingham," he said. "Can you?" This tactic worked, he tells me with a rueful laugh, but only for about three minutes.
Krauthammer was in attendance the night the Nats lost that Game 5 heartbreaker to the Cardinals and says it was easier recovering from Mitt Romney's loss in November.
George Will, Krauthammer's friend and fellow conservative—and an accomplished baseball writer—tells me he finds bipartisanship overrated, adding, "And baseball, no matter how highly rated, is underrated." But Will admits he's the baseball fan pictured in Roll Call last summer talking with Democratic Senate leader Harry Reid and a certain 19-year-old Reid constituent named Bryce Harper.
Geoff Bosworth, assistant general manager of the Palm, recalls the first time Harper wandered into his restaurant, shortly after arriving in DC last May. High-class joints in this city try to be bipartisan, and at the Palm it's literally an art form—on the walls. Even so, Bosworth remembers marveling at how Democrats and Republicans who normally give one another wide berth crowded together to shake the young star's hand.
Mark McKinnon also knows something about bipartisanship. He worked in Texas for Democratic governor Ann Richards, then turned around and worked for her successor, Republican George W. Bush, whom he followed to Washington. An adviser to John McCain's 2008 campaign, McKinnon spoke publicly of admiring Barack Obama. Today his main political work is for a group called No Labels, and he says the Nats' 2012 season gave him hope that such movements are still viable.
"It was amazing," McKinnon says, "that at a time when all the political parties do is crack heads, it was the sweet crack of a wooden bat and small white orb against a deep blue sky that finally unified Republicans and Democrats in DC."
• • •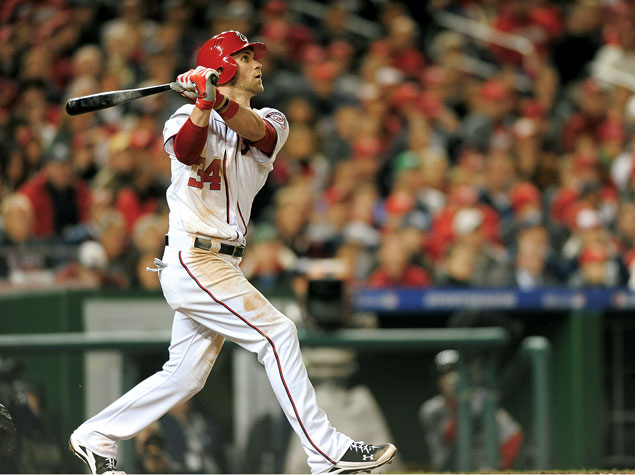 Last June, after Harper's second three-hit game in a row while playing in Toronto, a Canadian journalist noted that the drinking age in Canada was 19 and asked Harper if he was going to celebrate by having a beer. Harper, who was raised Mormon, rolled his eyes. "I'm not answering that," he said. "That's a clown question, bro."
This nonresponse went viral, and a week later it was employed by Harry Reid—who is also Mormon—when he was asked a touchy question by a Capitol Hill reporter. It even showed up as a category on Jeopardy!
This episode underscored another enchanting aspect of the 2012 season: Not all the best moments were ESPN-style highlights. The Nats' charm, camaraderie, and sheer goofiness found wide appeal among people tired of the posturing and self-importance typical of modern celebrities.
In early April, pinch-hitting specialist Chad Tracy nicknamed the bench players the Goon Squad. Perhaps not coincidentally, the Nats' bench became the best in baseball. Three weeks later, on an off-day before his home debut, Harper was walking along the Mall to see the Lincoln Memorial for the first time. Notwithstanding his $9.9-million five-year contract, he joined in when some of those playing softball asked him to take a couple of hacks.
And when a Washington Post blogger reported, after the All-Star break in July, that the fiancée of Nats slugger Michael Morse (a.k.a. The Beast) had read passages of Fifty Shades of Grey to him, the free spirits in the Nats bullpen made a video of their oh-so-sensitive selves reading the book aloud to one another. The video was an Internet sensation—and a topic of amused conversation in the stands, particularly among female fans.
Nats manager Davey Johnson got into a spat with Tampa Rays manager Joe Maddon in June, and the 69-year-old skipper didn't just shrug it off after the game. He told sportswriters that Maddon was a "weird wuss."
Maddon's rejoinder was that free agents wouldn't come to Washington to play for Johnson; the Nats players just laughed. In the off-season, Adam LaRoche signed a two-year contract even though he wanted three years, just so he could play in 2013 for Johnson, who has vowed to retire at the end of this season after 50 years in the game.
The truth is that people love playing for Johnson, a former All-Star who won World Series rings as a player (Orioles) and manager (Mets), both because they respect his knowledge of the sport and because he has a knack for taking pressure off his guys.
This year's mantra, "World Series or bust," was Johnson's idea—in a city, mind you, that hasn't hosted a World Series since 1933 and where passing the buck and managing expectations are celebrated strategies. That's not how Davey Johnson rolls. He thinks his players are good enough to win it all—and he wants them to know it.
• • •
As the 2012 season built toward its autumn apogee, much of organized baseball turned against the Nationals. The reason was the decision by Johnson and general manager Mike Rizzo—with full support of ownership—to end star pitcher Stephen Strasburg's season early in his first year back from reconstructive arm surgery.
"They're gonna have to pitch him," Hall of Fame hurler Dennis Eckersley told a national TV audience. "I can't imagine not."
"He's arguably the best pitcher in the game," added Chicago White Sox pitcher Jake Peavy. "Don't you want to seize the moment?"
"Disgraceful," said ESPN commentator Stephen A. Smith. "I'm thinking about those paying customers."
Privately, executives of other teams were making similar comments. They found the Nationals' suggestion that they were planning for future playoffs arrogant, and they proclaimed that when you have a chance to go for broke, you do it. Former New York mayor Rudy Giuliani and Senate Republican leader Mitch McConnell even weighed in. The more gung-ho Giuliani thought Strasburg should pitch; the more conservative Kentucky senator deferred to management.
Rizzo and Johnson never wavered. In the process, they exhibited qualities in short supply in Washington. Political veterans noticed.
"The way they handled Strasburg was a pretty stark contrast in a town that's been crying out for adult leadership," says Brookings Institution senior fellow William Galston, a veteran of Bill Clinton's White House. Galston carefully avoids mentioning the Obama administration or Congress, but it's clear he has both in mind.
"Davey Johnson showed you can get things done by making tough decisions and sticking with them, not whining or complaining about how tough a job he has or about your predecessors' mistakes," Galston says. "He had candor and guts, he was willing to take the heat, and he showed the guys under him that he cared about someone other than himself."
Nats fans knew all along what they were getting in Johnson—from his time as a player and manager in Baltimore. In 1997, he was forced out by O's owner Peter Angelos for his sheer cussedness on the very day he was named American League manager of the year.
But Washington didn't know what it was getting in owner Ted Lerner. A billionaire real-estate developer who kept a low profile, Lerner was known mainly for being publicity-shy, hard-nosed in his business dealings, and so litigious that he'd been involved in a lengthy series of lawsuits with his own brother.
He's still reclusive, but Lerner turns out to have other characteristics that serve him well as an owner. He's willing to delegate to experts, he's competitive as hell, and he doesn't care what outsiders think. His baseball people thought it was in the team's long-term interest—and the pitcher's—to shut Strasburg down in September, so Lerner, his son, and their partners backed their guys.
• • •
Will it all come together in 2013?
Who knows? Baseball, as the great Bart Giamatti—a former MLB commissioner—once noted, is designed to break your heart. And there are questions about this year's team. It's a talented group all right, but The Beast has been traded and a new center-fielder acquired, along with a starting pitcher. Star third-baseman Ryan Zimmerman has had to relearn his throwing motion after off-season surgery, a new closer has been added to the mix, and a handful of second-year players would like more playing time.
It's hard to recreate a fairy-tale season. But instead of magic, in 2013 there's confidence and determination—and in this sport that might be better.
"I love October baseball," Jayson Werth said after Game 4 against the Cardinals. Game 5 was hard to take, but this team made us like October baseball, too, Jayson. And to expect it.
Carl M. Cannon is Washington editor of RealClearPolitics. You can follow him on Twitter or e-mail him at ccannon@realclearpolitics.com.
This article appears in the April 2013 issue of The Washingtonian.