Back before the fried-chicken-and-doughnut craze had fully hit Washington, the crew over at Birch & Barley/ChurchKey began toying with the two comfort foods. First came the Luther—essentially a sandwich that tucked some crispy bird between two doughnut "buns"—which attracted cultlike fans in droves on Friday and Saturday nights. More recently, in-the-know diners could order a limited number of off-menu fried chicken specials at ChurchKey—essentially a cafeteria tray loaded with different varieties of fried chicken, biscuits, and sides from chef Kyle Bailey, plus Tiffany MacIsaac's fresh doughnuts. Now the training wheels are off, as GBD (Golden, Brown, Delicious) is poised to debut in Dupont on Friday with the two former specials as menu mainstays, plus so much more.
Morning muffins and bourbon-butterscotch doughnuts
While evening hours bring sit-down service and a bar scene, your first encounter with GBD will be in the morning. The shop opens at 8 AM for drip MadCap coffee and an array of sweets, which you can take to go or consume at one of the 50 seats inside. Pick from nearly a dozen varieties of brioche and cake doughnuts, ranging from classic (freshly fried with a vanilla glaze) to inventive combinations such as a bourbon-butterscotch round topped with house-made bacon, or a citrusy version filled with Key lime cream. A number of MacIsaac's pastries from sister operation Buzz Bakery are also on display, such as scones and the carrot-zucchini "good morning muffin." Heartier appetites can nab a fried chicken thigh sandwiched in a sweet potato biscuit with spicy honey.
Chicken!
You won't be able to swing a drumstick in the place without hitting a buttermilk-brined bird. There's fried chicken by the piece, buckets—essentially a whole hen—and a group-size dinner for four with various sides and sweets. The bone-averse can snack on jerk chicken "tendies," while the pro-bone population can opt for fried Buffalo wings. Crispy thighs are tucked into bao buns, Chinese-style, with pickled veggies, or topped with slabs of house-made bacon in the infamous Luther (see above). Odd bits show up in the "snackies" section of the menu, featuring crunchy smoked skin chips and gizzard "poppers," slow-cooked in duck fat until tender and then fried to a crisp. Ten sauces are freshly made for dunking with everything from mumbo to blue cheese, buttermilk ranch, and "frankenbutter" (Frank's hot sauce and butter).
Quirky decor
GBD employs repurposed church pews as seats. Themed design elements include vintage prints with chicken heads transplanted over humans and lamps fashioned out of old fryer baskets. Breakfast and not-yet-debuted lunch service are counter-order affairs, while dinner brings table service.
Beyond the bucket: chicken-fried steak, sides, and a rogue salad
Sure, you'll come primarily for the fried dough and the fried birds, but there are other crispy delicacies to enjoy. Big plates include chicken-fried steak over mashed potatoes and blackened catfish with tartar sauce. On the other end of the size spectrum, many sides are dressed-up versions of the classics, like pimiento mac and cheese, creamed kale, and bacon-scallion potato salad. If your arteries scream for a break, you can always order the house salad: Bibb lettuce layered with avocado, hearts of palm, and tomatoes.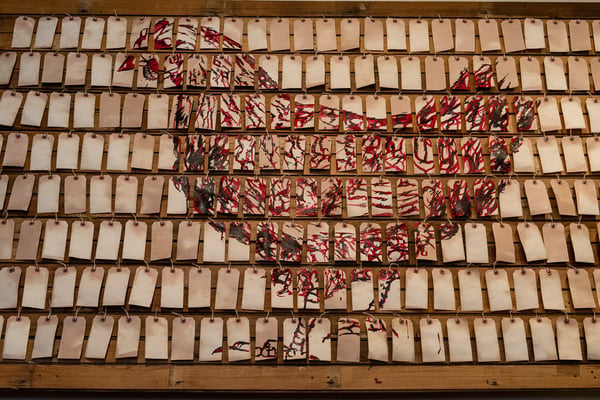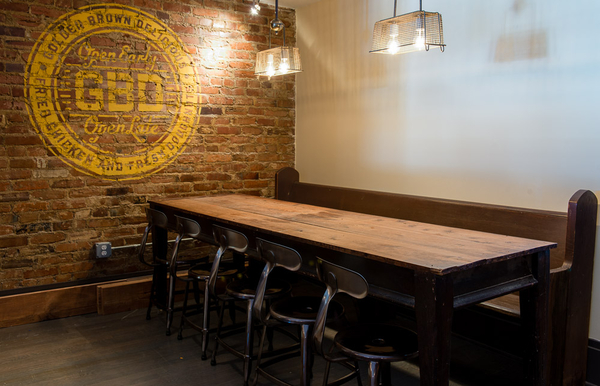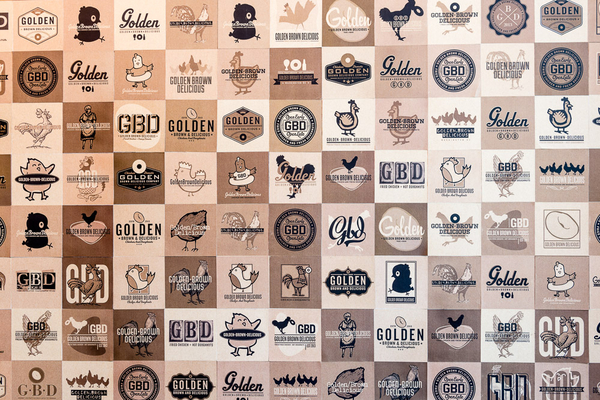 Bubbly and punch
Since beer and fried chicken go so well together, brew guru Greg Engert concocted a concise list of 19 drafts that complement the menu. Champagne and fried chicken make an even better combo, and new director Brent Kroll picked out a choice bottle of single-vintage bubbly for the big spenders, alongside a sparkling rosé by the glass for everyday drinking. Want something boozier? Room 11's Dan Searing is behind a selection of potent seasonal punches, enough for a group and served from vintage bottles.
Free birds
Fried chicken, while universally delicious, often involves factory birds treated with a variety of hormones and antibiotics. No one's arguing that Popeye's doesn't taste great, especially at 2 AM. But after eating a bucket of fried chicken, it's nice to only feel guilty about eating a bucket of fried chicken (if you even do—we generally don't). Bailey sources whole organic FreeBird hens, which are hormone- and antibiotic-free.
GBD. 1323 Connecticut Ave., NW; 202-524-5210. GBD debuts with limited hours; call ahead. Regular hours: Breakfast and lunch served Monday to Friday 8 AM to 2 PM, and Saturday and Sunday 10 AM to 2 PM. Dinner and bar open Tuesday through Thursday and Sunday 4 PM to 2 AM, and Friday and Saturday 4 to 3.