For the past two years our trusty nutrition experts have helped us scour local lunch spots' menus, finding the healthiest and worst meals to order. We've learned which frighteningly fatty salads to stay away from and the healthiest sandwiches to order at our favorite sub shops.
We're doing something a bit different for this week's Lunch Break. We love finding out how local health experts eat for a day, so we reached out to local studio owners and Well+Being readers to find out their favorite places to order a quick and healthy meal for lunch in their respective neighborhoods. Read on for their tasty recommendations.
GEORGETOWN: Kafe Leopold, Sweetgreen, Peacock Cafe, Baked and Wired, and Unum
The yoga instructors at Georgetown Yoga have their favorite spots in Georgetown for every meal: breakfast at Kafe Leopold, lunch at Sweetgreen, fresh juice from Peacock Cafe, dessert from Baked and Wired, and a glass of wine (or two!) at Unum.
CHINATOWN: Momiji
Bar Method owner Kate Arnold goes for sushi at Momiji in Chinatown when she craves an alternative to salads and sandwiches. "They offer some great lunch specials that make it an economical option," she says.
U STREET: Chix, the Greek Spot, Busboys and Poets, Sala Thai, and Yes! Organic Market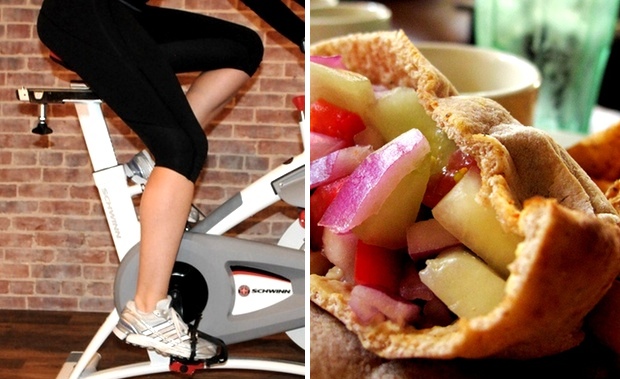 The Off Road DC owners say they "wish there were more healthy choices" near their U Street studio, but they're not completely out of luck. After a tough ride they order a salad or sandwich at Chix, a Latin-inspired green eatery, or the Greek Spot. Their neighbors at Peloton Cycling head to Sala Thai, Busboys and Poets, and Yes! Organic Market.
DUPONT CIRCLE: Black and Orange
Well+Being reader Jane Coaston goes for the unconventional "no bun" burger at Black and Orange: a patty topped with avocado, bacon, lettuce, and tomato. Black and Orange has another location on 14th Street.
EASTERN MARKET/CAPITOL HILL: Hanks Oyster Bar, Sonoma, and Zest Bistro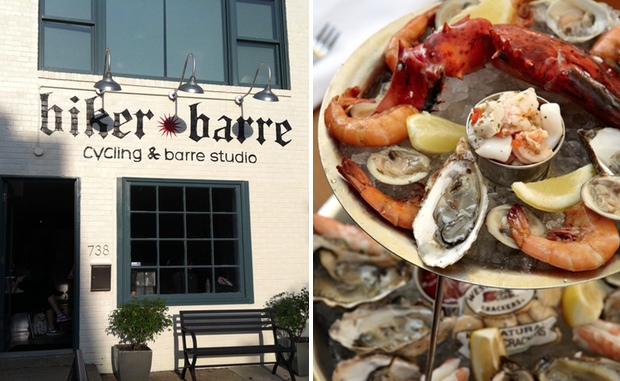 We know how Biker Barre co-owner Katie Fouts eats for a day, but she and Jane Brodsky also have some favorite lunch meals in the area, including offerings from Hank's Oyster Bar, Sonoma's kale salad, and the tomato soup at Zest Bistro.
ADAMS MORGAN: Jolt 'N Bolt
Mint Wellness DC trainers hop into the coffeehouse Jolt 'N Bolt for its smoothies, bagels, and wraps. Outdoor seating is a plus when it's nice out.
MOUNT VERNON/SHAW: Sundevich
Xtend Barre DC's owner Kelly Griffith says when she's not at her Georgetown studio, she'll pick up a veggie sandwich at Sundevich in Blagden Alley.
ALEXANDRIA: Cheesetique, the Pita House, Whole Foods Market Alexandria, and MOM's Organic Market.
The folks at Mind the Mat in Alexandria have lots of tasty lunch options, including healthy salads at Cheesetique and Mediterranean meals at the Pita House. When they need to get back to the studio quickly, they head to Whole Foods Market or MOM's Organic Market.
BETHESDA: Jetties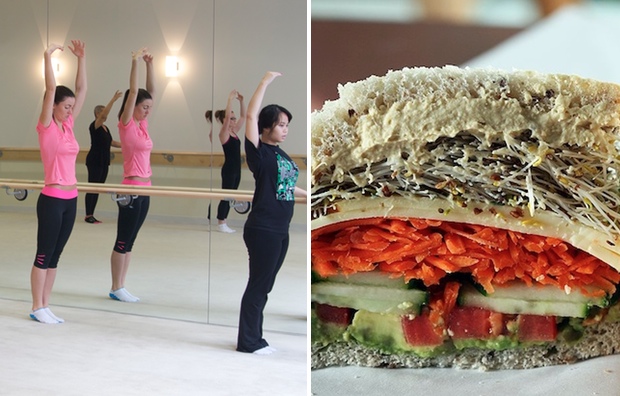 Bar Method owner Kate Arnold says she eats at sandwich shop Jetties almost every day after teaching classes in Bethesda. "They have amazing salads with a wide range of ingredients for both vegetarians and meat eaters," she says.
ARLINGTON: South Block Cafe, Sweetgreen, Chop't, and Whole Foods Market Arlington
Clarendon's Lava Barre crew loves salads from Sweetgreen and Chop't, while the folks at Revolve DC and Fit DC can't get enough of the smoothies and juices at South Block Cafe. When the cycling instructors at Revolve want a hot meal, they head to the hot bar at Whole Foods Market in Clarendon.
TAKOMA PARK: Mark's Kitchen
Well+Being reader Monica Garcia can't get enough of Mark's Kitchen's vegetarian and vegan options. "Their juice blends rock!" she says.
BONUS: Downtown DC
Here at Washingtonian headquarters we're lucky to be surrounded by tons of awesome lunch spots. Our frequent quick lunches consist of Sweetgreen, Chop't, Boloco, Pret A Manger, and G Street Food. We're excited for Protein Bar to join that list soon.
What's your favorite place to get a quick and healthy lunch in Washington? Let us know in the comments!