Since I became a fitness blogger, I've found myself asking more often than I expected, "What have I gotten myself into?"
There was the time I tried out CrossFit and waddled around in pain for days after. Or that one class that required me to shimmy around next to a beautiful exotic dancer.
But last night's BodyShred by Jillian Michaels class at Crunch DC might take the cake.
"All right! You guys ready?" exercise instructor Nicola Haire asked the group of 30 who had showed up for class at Crunch's downtown location.
Aside from the music blaring from the speakers, Haire, Crunch's regional group exercise instructor, was met with silence. I glanced around the room, slightly relieved to find that almost everyone's face showed a hint of fear. Haire had just spent the past 15 minutes demonstrating the entire workout we'd be performing in the next half hour. The workout would require doing 20-something exercises for 30 seconds each, in four circuits, with no breaks in between.
Designed by Jillian Michaels, BodyShred is the newest metabolic conditioning class offered exclusively at Crunch. Using Michaels's infamous 3-2-1 circuit-training approach, the class involves four circuits of three minutes of strength training, two minutes of cardio, and one minute of abs. The idea is that the interval-heavy workout allows one to continue burning calories even after the class is over.
It is, as manager Bryan Bullock warned me before I entered the room, "the hardest class we have on the schedule."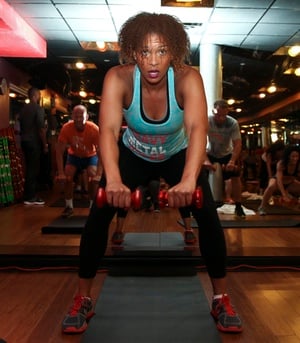 We began with a quick warmup of jumping jacks and arm circles before diving into the workout. We went from skier's lunges to bicep curls with weights while squatting to side-to-side burpees (because regular burpees aren't hard enough) to plank rows to staggered pushups to long jumps­­—and on and on.
Even if "America's toughest trainer" Michaels wasn't there, it sure felt like it. During the 30 minutes, Haire was everywhere, either shouting words of encouragement or calling us out if she caught us stopping or doing an exercise too slowly. I stared longingly at my water bottle, which went untouched the entire time—I barely had enough time to wipe away the sweat dripping into my eyes.
BodyShred packs in so many exercises in such a short time that by the time you've finished your last set of walking planks you're left wondering, "What just happened?" Haire says class-goers are likely to make the most of the workout the second time around, once they've nailed some of the combination moves. One exercise new to me, for example, was the side plank lift and roll, which left me looking like a turtle stuck on its back.
But the appeal of the class is clear. For one, capped at just 30 minutes it's the perfect calorie buster for those short on time. And the 30-second limit on each exercise means there's no requirement to how many reps must be performed. Newcomers especially are encouraged to modify exercises or forgo the weights as needed. And in the end, if it'll give me the body of Jillian Michaels, who am I to complain?
BodyShred is not for the faint of heart, but Haire suggests everyone try the class at least once. "If you come in with the mentality and focus to do things as fast as you can, as hard as you can, you'll get the workout you want," she says. "It's like nothing you'll ever experience."
BodyShred is offered at Crunch's Chevy Chase and Metro Center locations. It is not recommended for people with knee or shoulder injuries. One-day guest passes are available via Crunch's website.