Last month we rounded up some awesome specials gyms and studios were offering in honor of spring. Even more awesome: Since then, more new classes have popped up, and we're really excited to them give a whirl. From a Bethesda boot camp to the newest barre studio to a cycling class geared toward triathletes, these fitness studios will help you get in tip-top shape in time for Memorial Day weekend.
Great Gatsby Classes at Washington Sports Club
Washington Sports Club is back again with its movie-themed classes. For the month of May, members and nonmembers can dance their way through this Great Gatsby-inspired Zumba class called Speakeasy Sweat. Expect lots of doing the Charleston to an electro-swing playlist. Free at Columbia Heights location.
9:30 Club, Running, and Yoga Classes at Off Road DC
Off Road DC is has a slew of new class offerings, including a partnership with its neighbors at 9:30 Club. The first Monday of every month you can cycle and sweat to a playlist of songs whipped up by the 9:30 folks—many of them include music from upcoming shows at the venue. Or, hit the road with Off Road's Brick class, which includes a 30- to 40-minute cycling session followed by an outdoor run. Sunday also includes a new yoga class to give your muscles a break after a hard week of exercise. (Bonus: Now through May 15, class packages are 15 percent off with the code SUMMER.)
Ready to Ruck Boot Camp at Bethesda Row
Grant Hill's infamous boot camp takes it to another level with its "Ruck"-style fitness class in Bethesda, beginning May 7. The one-hour sessions require participants to load up with a kettlebell, sandbag, bricks, and weight vests. Participants must then perform certain challenges along the Capital Crescent Trail. $100 per month plus $50 enrollment.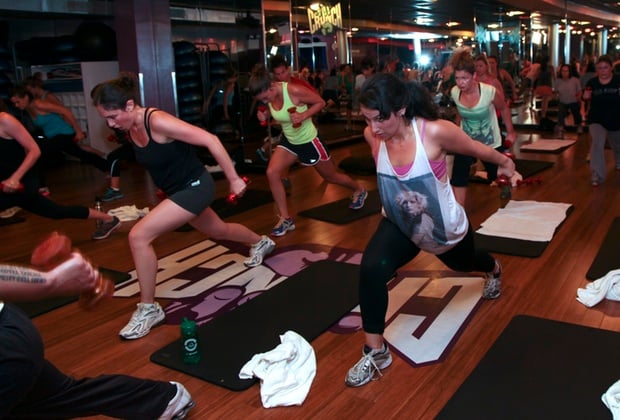 Jillian Michaels's BodyShred at Crunch Fitness
The newest class at Crunch DC locations is 30 minutes of explosive, rapid interval training created by Jillian Michaels of The Biggest Loser. Be prepared to work hard and sweat.
Free Pilates and Yoga in Farragut Square
Pilates in the Park is still going strong, with eight sessions left on the calendar. The outdoor Pilates and yoga classes are free and take place every Tuesday at 5:30 PM in Farragut Square.
Pure Barre Opening Special in Dupont Circle
The Dupont Circle barre studio officially opened its doors Tuesday and is offering one month of unlimited classes for $99 as a special.
CorePower Yoga Classes in Georgetown
CorePower Yoga is just one month old, but its classes are already packed with yogis. Various classes are offered, but we recommend what's been dubbed "yoga on steroids," the CorePower Yoga Sculpt class. New clients get one free week of classes.
Free Yoga on the Mall
DC Yoga Week is almost over (tear), but the week culminates with the ever-popular Yoga on the Mall this Sunday. Join hundreds for a free two-hour yoga session led by local instructors.