The world said goodbye to Nigerian author Chinua Achebe in
March, but the towering man of letters survives through works such as his
classic novel Things Fall Apart and the many writers he inspired.
One of those, Achebe's 35-year-old compatriot Chimamanda Ngozi Adichie,
reminds us just how worthy an heir she is, with her big, masterful new
book, Americanah.
Adichie's first novel in seven years, Americanah tells
of two Nigerian lovers trying to reconnect after being parted for many
years. But don't let that description fool you—this is a clear-eyed look
at the reality of life and relationships in a turbulent, globalized
world.
The plot is nuanced, but here's the gist: Ifemelu, a
self-possessed, bookish girl, and Obinze, the easy, cool son of an
academic, fall in love as teens in Lagos. But faculty strikes at Ifemelu's
university force her abroad to pursue her studies in the US. She
eventually thrives and starts a provocative blog called Raceteenth or
Various Observations About American Blacks (Those Formerly Known as
Negroes) by a Non-American Black. Meanwhile, Obinze, who planned to follow
her but was denied a visa, ends up in London. Years later, the two are
about to meet again in Nigeria. But after all that time and distance, can
anything be the same?
A 2008 MacArthur Foundation "genius grant" winner who splits
her time between Nigeria and Columbia, Maryland, Adichie is uniquely
positioned to comment on America's issues surrounding race, class, and
politics, and she does so unflinchingly. Ifemelu muses on a white woman
getting braids at a black hair salon in Trenton: "She recognized in [her] the nationalism of liberal Americans who copiously criticized America but
did not like you to do so; they expected you to be silent and grateful,
and always reminded you of how much better than wherever you had come from
America was."
Americanah also delivers piercing insights into human
nature. Obinze, who becomes wealthy beyond his dreams, is never sure
"whether he liked his life because he really did or whether he liked it
because he was supposed to." Another man, whose family Ifemelu works for,
"looked people in the eye not because he was interested in them but
because he knew it made them feel that he was interested in
them."
Adichie's sensual prose is dazzling throughout. Here, an image
of Obinze and Ifemelu on a cool Nigerian night during the
harmattan, a West African winter trade wind: "Other nights, a sharp
cold wind would descend, and Ifemelu would abandon her hostel room and,
snuggled next to Obinze on her mattress, listen to the whistling pines
howling outside, in a world suddenly fragile and breakable."
This article appears in the May 2013 issue of The Washingtonian.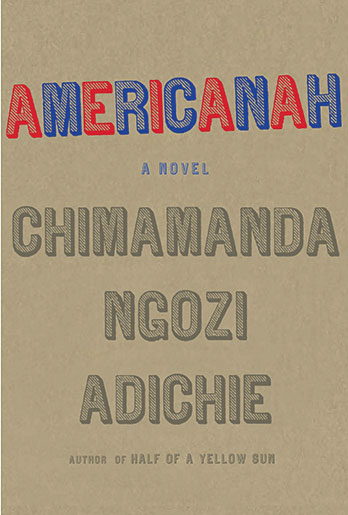 Publisher:
Knopf
Price:
$26.95