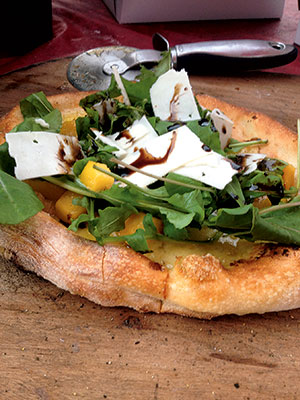 Jumbo Lump Crabcakes
Chris' Marketplace
Big, sweet chunks of blue crab shine in these croquet-ball-size
cakes ($10 for 4½ ounces), which are creamy and not at all bready. A quick
searing in olive oil or butter is all they need.
Also good: Gazpacho ($6
for a pint) and bluefish empanadas ($3 each).
At these markets: Dupont
Circle, Falls Church, Foggy Bottom, Penn Quarter, White House.
Chocolate Pudding
Keswick Creamery
We love this dairy and cheese producer's fluffy,
just-rich-enough confection ($2.75 for a half pint) for an easy weeknight
treat or a nostalgic ending to a dinner party—it's even better dolled up
with freshly whipped cream.
Also good: Keswick's spicy pimiento-cheese
spread ($8).
At these markets: Bloomingdale, Dupont Circle, Takoma
Park.
Apple-and-Peach-Blossom raw Honey
Toigo Orchards
Among the many splendors at this popular stand—juicy Fuji
apples, plump late-summer peaches—is this subtly floral and fruity honey
($7). It's lovely in tea or on toast with butter and a sprinkling of
fleur de sel.
Also good: Bourbon-soaked peaches ($15), "Birth of
Pain" Bloody Mary mix ($7.50).
At these markets: Arlington, Bethesda,
Columbia Pike, Crystal City, Del Ray, Dupont Circle, Falls Church, Glover
Park-Burleith, Penn Quarter, Reston, Rockville (Pike Central), Takoma
Park, White House.
Rapidan Spread
Everona Dairy
This Virginia farm's condiment ($12 for a small jar, $15 for a
large), made with black and green olives, olive oil, Piedmont cheese, and
pimientos, is particularly good tossed with potatoes or pasta.
Also good:
Piedmont, a nutty sheep's-milk cheese ($29.95 a pound).
At these markets:
Dupont Circle, Vienna.
White Pizza
The Red Zebra
You have to wait ten minutes for a cornmeal-dusted round ($10)
to emerge from this wood-fired pizza oven on wheels. But the crust's
wonderful chew along with this sauceless version's toppings—a rotating
array of cheeses plus bitter greens, mushrooms, and a drizzle of cider
molasses—make it worth the wait.
Also good: Lamb-sausage pizza with mint
pesto ($12).
At these markets: Dupont Circle, Eastern Market, Penn
Quarter.
Slow-Cooked Pork
EcoFriendly Foods
Think great barbecue is hard to find close to the city? Not at
Bev Eggleston's pork-heavy meat stand, where smoky pulled pork shoulder
($16 a pound) is perfect for tucking into tacos or sandwiches.
Also good:
Shavings of Virginia-raised Ibérico ham ($100 a pound).
At these markets:
Arlington, Dupont Circle, Union Market.
Croissants
Bonaparte Breads
These classic, airy French pastries ($2.50 to $3.50)—plain or
filled with chocolate, fruit, or almond paste—are our favorite things to
fortify us during market runs.
Also good: Pain aux raisins ($3).

At these markets: Annandale, Columbia Heights, Columbia Pike, Dupont
Circle, Falls Church, Foggy Bottom, Glover Park-Burleith, St.
Michaels.
Black and Blue Cheese
FireFly Farms
The sharp tang of blue cheese is mellowed by a creamy, buttery
texture in these wax-covered wedges of goat's-milk cheese ($24.99 a
pound). It's terrific crumbled over a vinaigrette-tossed salad or simply
sliced on a cracker.
Also good: Fresh Allegheny goat cheese ($14.99 a
pound).
At these markets: Dupont Circle, Silver Spring.