Stuck in town and bummed about missing the beach this Memorial Day weekend? Consider
drowning your sorrows in fried chicken and bottomless bubbly at newly opened chicken-and-doughnut
spot GBD,
which launches brunch this Sunday from 10 to 2 and will offer the menu on Saturdays
and Sundays at the same time starting next week.
Naturally, crispy birds make more than one appearance on the menu, which consists
of $10 entrées as well as sides like crème fraîche biscuits with redeye gravy. You
can get fried chicken atop waffles or a salad, inside a Mexican-style wrap, or in
a dark-meat or "tendie" (white meat) box with pimiento mac and cheese and dunking
sauce. The poultry-averse can go with items such as a potato-leek quiche or a croissant
sandwich stuffed with eggs, ham, and spring veggies. Opt for à la carte or a $12 special
that includes a main dish, a doughnut, and coffee or tea. Even better: Add bottomless
mimosas made with fresh-squeezed OJ or grapefruit juice or "brunch punch" for $27.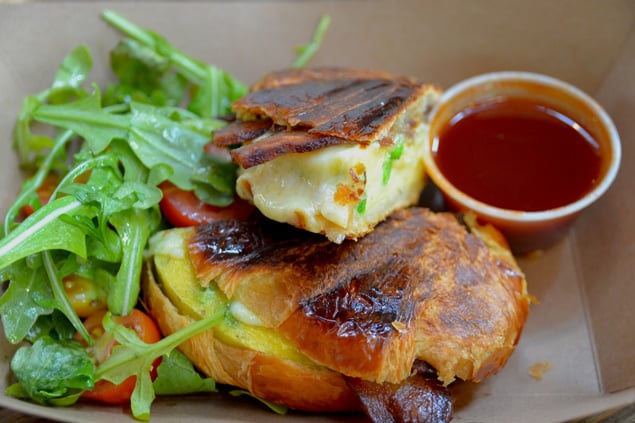 Brunch at a chicken spot wouldn't be complete without eggy options, so you can "put
a bird on it"—meaning add a fried egg—to any dish. Just don't ask which came first.
Sample menu (all entrées are $10)
Potato-Leek Quiche With Simple Salad
Chicken and Waffles
Belgian waffle, fried chicken thigh, maple-chicken
jus, buttered pecans
Croissanwich
Croissant, spring vegetables, egg, Havarti cheese, ham, home fries
French Toast Sticks
Brioche, strawberries, vanilla whipped cream, maple syrup, candied almonds
Fried Chicken Chopped Salad
Iceberg, cherry tomatoes, avocado, pickled egg, fried chicken, ranch dressing
Ranchero Wrap
Fried chicken, yellow rice, black beans, pepper jack, sour cream, home fries
Dark Meat Box
Fried thigh and drumstick, crème fraîche biscuit, pimiento mac and cheese, choice
of sauce
Tendie Box
Fried marinated chicken tendies, crème fraîche biscuit, pimiento mac and cheese, choice
of sauce
Sides:
Biscuits and gravy
Crème fraîche biscuits, redeye gravy
French fries
Sea Salt or Old Bay; choice of sauce