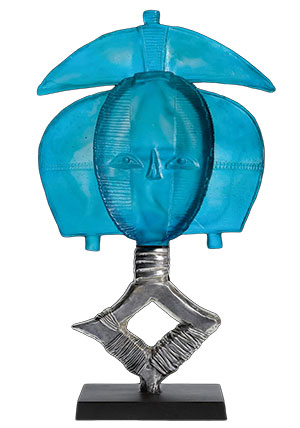 By law, gifts worth more than $350 are property of the American people and most are donated to the National Archives or the General Services Administration. The only gift Barack Obama kept was the book Genghis Khan and the Making of the Modern World, given to him by Mongolian president Tsakhiagiin Elbegdorj.
The most expensive gift President Obama got came from an unlikely source—the tiny West African country of Gabon, whose president, Ali Bongo Ondimba, bestowed a 14-inch crystal sculpture worth $52,695.
Sometimes, no matter how thoughtful, a gift just isn't appreciated. Former South Korean president Lee Myung-bak gave Obama his autobiography, The Uncharted Path. We hope he hasn't looked at the disclosure forms, because Obama probably didn't read it—it was immediately deposited in the National Archives.
Fine cigars were once the currency between diplomats and Defense Department types, but only two boxes were handed out in 2011, both to former Defense Secretary Robert Gates. The new coin of the realm? Daggers. Eight ceremonial blades were given to figures including David Petraeus, who received three during his brief tenure as CIA director.
In what could be the most high-profile case of regifting ever, disgraced former Italian prime minister Silvio Berlusconi gave Vice President Joe Biden a box of E. Marinella neckties (valued at $540). The box had a sticker on it reading per Silvio Berlusconi. In case your Italian's rusty, per can mean "to"—something Berlusconi probably hoped Biden wouldn't translate.
While the recipient of the gift is always disclosed, sometimes the giver is not. That was the case with the classified benefactor who presented former CIA director Leon Panetta with a gold-plated MP7 automatic rifle (valued at $4,500). It and a set of antique dueling pistols ($7,000) are now on display at Langley.
In what is either a delicate geopolitical dance of quid pro quo or just a serious man-crush, former French president Nicolas Sarkozy lavished Obama with $34,978.86 worth of gifts. Sarkozy and his wife, model Carla Bruni, catered to Obama's golf passion with an Hermès golf bag (valued at $7,750), two Baccarat crystal golfer statuettes ($1,650), and more. They even gave Sasha and Malia chic Parisian Bonpoint outfits ($360.85).
Former Secretary of State Hillary Clinton demonstrated her popularity by raking in the largest amount of gifts of any Cabinet member at $66,028. The most opulent was a $7,834 emerald-and-diamond necklace from the First Lady of Zambia.
A version of this article appears in the June 2013 issue of The Washingtonian.