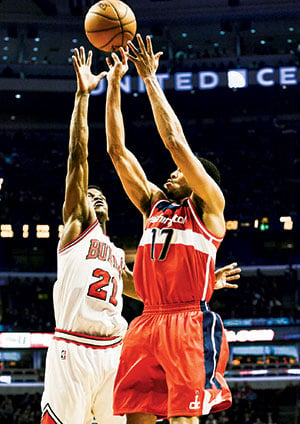 The Wizards are pitiful. Looking at the basketball team's record, it's hard to argue. The Wizards recently completed a fifth forgettable season, and while it was their most successful campaign in this desolate stretch, they remained at least nine games adrift of a playoff spot. Over these five years, apologists have argued over and over about why things aren't as bad as they seem. This time they may finally be right. So before calling in to a radio station ("Fire Ernie!") or rushing to your favorite Wizards blog ("Cut bait on Wall!"), hear me out.
The team has implemented a plan, and general manager Ernie Grunfeld might know what he's doing.
I am not a crackpot.
Grunfeld built a winner under the late Abe Pollin, only to see everything fall apart. Things got bad. Grunfeld brought in Nick Young and JaVale McGee, talented but immature rookies, and the team scuttled their way to a .274 winning percentage between 2008 and 2010. When Ted Leonsis became majority owner after that season, he decided to retain Grunfeld. The two charted a new plan: Get better by getting worse. To build around the franchise's new cornerstone, John Wall, they had to shed some dead weight and replace it with the right kind of players. They lost (and lucked) their way into Bradley Beal through the draft, while in the meantime unloading Young and McGee, now talented but immature veterans. The Wizards filled out their potentially elite new backcourt with the kind of players who could help them grow. Martell Webster opened up the offense with his long-range shooting. The duo of Nene and Emeka Okafor provided veteran stability and the interior defense that the team had been lacking for . . . ever.
The plan became clear: Acquire young stars through the draft and surround them with the right complementary players. And if it weren't for a preseason injury that cost Wall 2½ months, I wouldn't be explaining away another lost season.
For the first time in years, the Wizards managed to win more often than they lost at Verizon Center. They did this by playing some of the league's best defense from January onward, even earning some respect from opponents. After years of roster shakeups, next year's team will look pretty similar to what we saw during last season's high points. That continuity, plus the addition of a capable rookie (they have the third pick in this summer's draft) and a useful free agent (fingers crossed), should allow Leonsis and Grunfeld to make good on their playoff goal.
Now if John Wall regresses, Nene breaks down physically, and the Wizards win 20-odd games, I promise I'll stop trying to convince people to take this team seriously. For a year at least.
This article appears in the June 2013 issue of The Washingtonian.