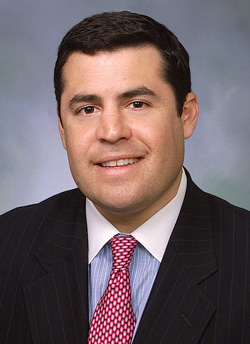 With the Obama administration pushing for tighter gun control after Sandy Hook, the NRA ramped up its legislative fight, spending $830,000 on lobbying in the first quarter of 2013, compared with $725,000 during the same period last year. As it fought off the bill that would have expanded background checks for gun buyers, it hired a new lobbying firm, Greenberg Traurig, and parted ways with another, Dentons.
The NRA's recently added advocate, Michael Williams, a senior director at Greenberg Traurig, was an in-house lobbyist for the NRA before joining Greenberg in 2001. He bills himself as "one of the major architects" of the NRA's strategy to derail President Clinton's gun-control legislation in the late '90s. Williams has also represented Smith & Wesson since 2005, bringing in $60,000 from the gun maker last year. So far in 2013, Greenberg Traurig has made $20,000 from the NRA.
When Todd Weiss and Mathew Lapinski jumped from Dentons to Crossroads Strategies this spring, they apparently took their former firm's NRA representation with them. Weiss and Lapinski have lobbied for the association since 2005, and the NRA paid Dentons $120,000 in 2012. The duo surely fits in at Crossroads, which has represented the NRA since the firm's founding in 2010. It made $240,000 from the NRA last year.
This article appears in the June 2013 issue of The Washingtonian.