In a world where raw and organic food have become all the rage, it's easy to see why the juicing trend has exploded into a multimillion-dollar industry.
In Washington alone, several raw juice bars have quickly popped onto the scene—first Puree Juice Bar in Bethesda, quickly followed by Khepra's Raw Food and Juice Bar on H Street. Sweetgreen offers its line of Sweetpress juices, and a number of small cafes offer their own versions of cold-pressed juices.
But while juice diets appeal to a growing number of consumers, plenty of doubters remain—those who can't fathom drinking only juice for multiple days to rid the body of toxins. I was one of them; as I witnessed friends purchase expensive at-home juicers and mounds of organic produce, my aversion to juice cleanses only continued to grow.
Which is why I received such strong reactions from coworkers, family members, and friends when last Thursday I announced, somewhat sheepishly, that I was doing a juice cleanse. "Why would you do that to yourself?" a concerned friend asked. Others feared for their safety, knowing full well my tendency to become irrationally angry if I don't eat every couple of hours.
But as the saying goes, "Don't knock it 'til you've tried it."
So I tried it, for one day, choosing Puree Juice Bar's cleanse package that typically runs for three or six days. On Wednesday I met with the bar's cleanse specialist, Shannon Vaughan, who handed me a bag of six 16-ounce glass bottles of juice that had been pressed that day. I was to drink one every two hours. I could also drink water and decaffeinated tea throughout the day, supplemented with shots of ginger or beet juice if so desired.
Vaughan told me how a client who was 300-plus pounds did a cleanse for months, losing 60-some pounds in the process. Cleanses, she added, also proved popular among cancer patients, who wanted to flush out the toxins received from radiation and chemotherapy. I didn't fall into either category, and Vaughan told me that for normal situations such as mine, juice cleanses should only be done a maximum of four times a year.
I was also encouraged to exercise in moderation the day of the cleanse to allow the body to sweat out additional toxins. I began Thursday with a 30-minute workout involving the elliptical and strength training, working up a light sweat before having my first sip of juice at 9 AM.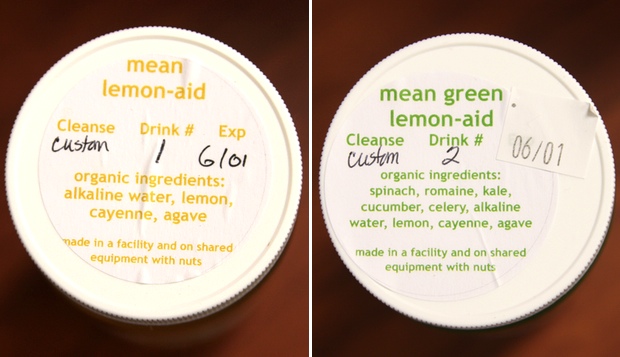 First up was lemonade: alkaline water, lemon, cayenne pepper, and agave. It was delicious and refreshing. "I can totally do this!" I thought. Famous last words.
By the time I finished one bottle, it was time to drink the next one at 11 AM. The green juice (spinach, romaine, kale, cucumber, celery, alkaline water, lemon, cayenne, and agave) was another favorite. But starting with my lunchtime meal of carrot juice—2.2 pounds of carrots, to be exact—things started to go downhill.
By 3 PM, when I'm usually reaching for a snack, I had to stick to coconut water. All that liquid also began working its magic in speedy fashion, forcing me to run to the bathroom every half hour. My afternoon looked something like this:
3:30 PM: Bathroom break.
4 PM: Come up with genius idea of going to Hill Country's all-you-can-eat barbecue next Monday. Schedule feast ASAP.
4:30 PM: Bathroom break.
5 PM: Down second-to-last juice, grapefruit.
5:15 PM: Bathroom break and thoughts of what I'd eat for dinner if I could eat real food. Chinese. Or pasta. Or fries. No, all three!
6 PM: Roommate, who forgets I'm doing a cleanse, asks if I want to check out a nearby soul food restaurant. I nearly cry tears of carrot juice.
7 PM: Sip the cleanse's last bottle, a thick almond milk. I can barely finish, and hop into a steaming detoxifying algae bath to finish off the cleanse.
9:30 PM: Force myself to sleep, dreaming of carbs.
But here's the thing: The next morning, I awoke feeling refreshed—not doubled over with hunger spasms. I struggled over what to eat for breakfast since I wasn't craving anything in particular; I wasn't even that hungry. And although it wasn't my goal, I managed to lose a pound or two—it sounds like nothing, but imagine if I had continued for another few days.
Like every trend, juicing is not for everyone, especially those who suffer from certain medical conditions. But after just one day, my initial distaste for the idea had melted away. It was especially helpful to have experts guide me through the process.
Perhaps the important takeaway was this: If you want a healthy reboot, a juice cleanse can be the swift kick in the butt you need. What's even more crucial, however, is what you do with your cleansed body afterward.
Puree Juice Bar's three-day cleanse begins at $180. To find out whether a juice cleanse is right for you, consult with your doctor, especially if you have a medical condition.