In Los Angeles, Mandy Ingber is pretty much a household name. The yoga and Spinning instructor is the secret behind the toned bodies of A-list Hollywood stars, from Jennifer Aniston to Kate Beckinsale to Helen Hunt. But this weekend DC gets Ingber all to itself when she hosts two workshops at Flow Yoga Center in Logan Circle. Before the fun-filled weekend, we chatted with Ingber to get details on the events and a sneak peek into her new book: Yogalosophy: 28 Days to the Ultimate Mind-Body Makeover.
Welcome to DC! How did you and Flow Yoga Center connect?
I was reaching out to other yoga instructors that I'm friends with, and they all recommended Flow as one of the nicest studios in DC. I'm doing a seven-city tour, and Flow was the top of the list for my friends. They do a lot of new, interesting types of yoga, and I do a hybrid workout of yoga poses with toning exercises, so I'm excited.
What can people who come to your event expect at the class?
There will be 30 minutes of the hybrid workout, but overall it's a 75-minute class. There will be some flow in the beginning, sun salutations, and nice stretch at the end. We'll focus on happiness—because we all need more of that. Then there will be a book signing and there's going to be an amazing goodie bag with sports bras, chocolate, candles, and KIND bars.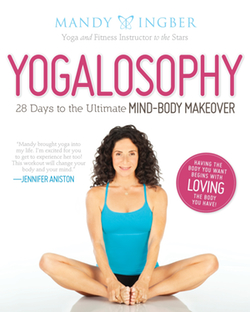 Your new book is Yogalosophy: 28 Days to the Ultimate Mind-Body Makeover. For those who have never heard of Yogalosophy, what is it?
It's a 28-day, start-where-you-are sort of program. Essentially it's for everybody. What I do is I'm trying to bridge the gap between yoga and fitness. I was born in LA so there's a lot of focus on getting into great shape, and, for me, I found that when I started to be more loving to myself and find ways to get excited about my exercise routine, I got into shape easier and faster and it became a lifestyle.
In the program, each day has a daily intention, yoga pose, cardio workout, recipe, and playlist of the day. There are also recommended extra credit activities, like write a gratitude list or take a walk outside. It's an all-encompassing program, but it is movable and changeable. There are also three diet options.
What's the secret behind the number 28—why not 10 or 50 days?
Twenty-eight days is what is takes to break a habit and to implement a new set of habits. It's long enough so that you can see results—four weeks is a long time to be consistent. You will see results, but it's short enough that you can achieve it.
Let's say someone reads your book and follows the 28-day plan. Then what?
Hopefully they reset themselves so that they are more conscious about what they're doing. It's a behavioral modification in a way. I'm not super rigid all year long, but twice a year I like to tighten it up and bring myself back to being conscious about my body. Without our health, nothing else really can happen.
Your workouts and the book combine common yoga postures with other exercises. What is your favorite non-yoga-based exercise?
I love the plie squat. I love that because I can feel my glutes and inner thighs, and it makes me feel grounded. And obviously I love the results, which is that I get a toned tush and legs. But I'm also a Spinning instructor, and Spinning is a great modality that I love. Spinning informed my yoga because I started to understand that meditative space.
What is your favorite yoga pose?
I love pigeon. I'm very flexible in my hips, and I like that pose because I can relax in it. It's also a forward bend, which allows nervous system to relax. Plus, when you're in pigeon, you know you're almost done with the class. That feels really good.
You've become so successful in the last few years and now have the book launch. Are there any new projects for you already in the works?
I'm wide open, but I feel like everything is possible. I'm very organic about the way that things happen—I don't have a five-year plan. My five-year plan is one day at a time. We'll see what happens!
Both Yogalosophy Masters classes at Flow Yoga Center on Saturday are sold out, but there is a waiting list. The classes are from 2 to 3:45 PM and 3:45 to 5:15 PM. $45.