In the past week there have been two notable real estate transactions in Georgetown.
The Washington Harbour waterfront complex, which since being built in the mid-1980s
has had several different owners, was sold by its current owners for $370 million.
The Dumbarton Street house where the notorious
Dominique Strauss-Kahn lived, and which has been on the market since 2011, sold for $3.3 million cash. It
was first listed for $5.2 million.
Washington Harbour, at best, has had an up-and-down journey since it was first developed
by
Herb Miller and designed by architect
Arthur Cotton Moore. Owners came and went. Retail tenants came and went. Restaurants came and went. Residential
tenants complained of leaks and mold, and then there was the flood of 2011, when the
floodgates that border the complex and protect it from high tides on the Potomac were
not properly in place when the river significantly overflowed. Businesses in the lower
level were swamped and had to close.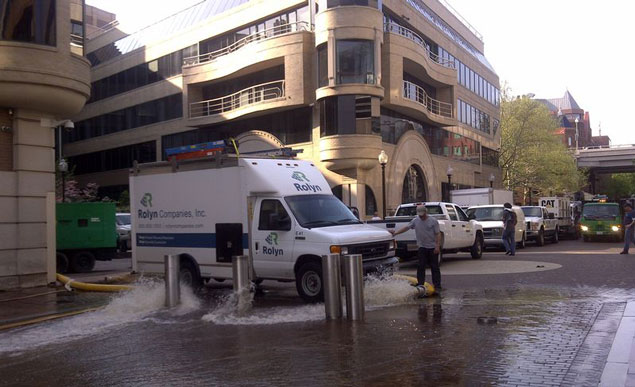 The owners then and now, MRP Realty and Rockpoint Group, did a $30 million renovation
after the flood, and redeemed themselves with the community by installing a beloved
ice-skating rink. The businesses that had been flooded reopened, and new businesses
were added. In the sale this week to an Iowa real estate investment company and a
Korean pension group, MRP and Rockpoint made a $75 million profit.
Dominique Strauss-Kahn rolled relatively off the media radar in Washington when he
lived in the Georgetown house and ran the International Monetary Fund. That all changed
in May 2011 when he was arrested in New York after a hotel housekeeper said he had
sexually assaulted her. He was arrested and charged, but later the charges were dropped.
Strauss Kahn left the US and returned to his native France, where legal troubles and
other accusations of sexual misadventure have dogged him.
DSK had lived in the Dumbarton Street house with his wife,
Anne Sinclair, and she returned with him to France. In May 2013 she divorced him. The house has
been empty, with the asking price dropping, ever since. The buyer is
Deborah Winsor, whose husband,
Curtin Winsor, the cofounder of the Bank of Georgetown, died from a massive heart attack last year.
She has three children.