When Graham King says he has a surprise for you near the end of an ungodly humid, sweaty run, it's not a tub of ice cream. Nope—it's a set of bear crawls along a fallen tree the middle of Glover-Archbold Park.
That's what I found myself doing on a balmy Tuesday afternoon, schlepping along with six others as King and Chris Geier, the brains behind OutRun, led us through the wooded trails and streets of Glover Park. It's all part of the duo's mission to bring the gym outdoors with their three-month-old Roam Fitness.
"We're not trying to be a health club," King said of the bare-bones gym located in the Savoy Hotel in Glover Park. "We want to return to our roots and get people out of the box with their training."
One way Roam Fitness is doing that is with Geier's OutRun class, during which the former collegiate soccer player leads a small group through the streets and trails of DC, stopping every half mile or so to perform a set of bodyweight exercises. Tuesday night Grier took our group on a run on dirt paths, through creeks, over logs, and up hills (oh, so many hills), stopping to perform 40 tricep dips here, 20 jump lunges there.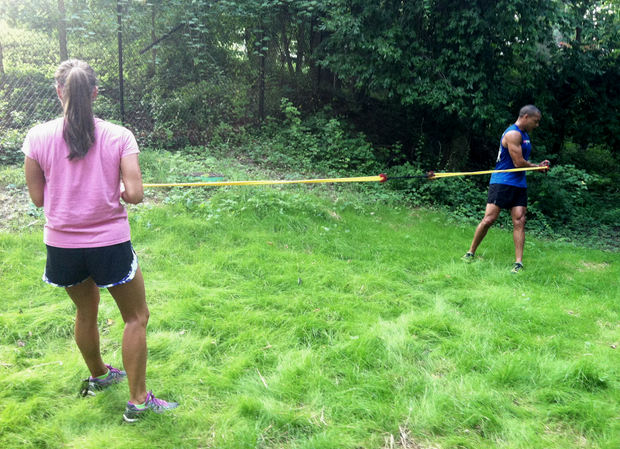 During each of the runs, which vary in location and distance, Geier encourages the group to "stay tight" so no one is left behind. "We stay together and finish together," he says at the start of each OutRun. He's as much of a running and boot-camp instructor as a personal cheerleader for each of us, offering high-fives and lots of "You're doing so great!" as we drip sweat and huff and puff up a never-ending hill. Also helpful are the upbeat tunes by Daft Punk and the Talking Heads streaming through portable speakers in Geier's backpack. Quick water breaks are also welcome; King follows behind with a backpack of water bottles for the group.
For those who love high-intensity interval training, like me, OutRun is the perfect way to build up running mileage and endurance. It also allows avid runners to fit in strength-training that they'd typically ignore. Even better: The exercises are never the same. While our run featured bouts of bicep curls with exercise bands, planks, walking lunges, and sprints, other OutRuns include pullups and sandbags. King says next week they'll debut parachute sprints and wood-chopping. That's right—expect to channel your inner lumberjack while hacking away at logs and stumps with axes.
By the end of the OutRun, I was covered head to foot in dirt and sweating in places I didn't even know could produce sweat. But the exhaustion was well worth it once I realized how much we had achieved in an hour and 30 minutes: 3.3 miles of running and 13 challenging exercises along the way. And who knows? Judging from the buckets of sweat I produced, it's very likely I lost a pound in the process, too.
Whether you're a die-hard runner or a boot-camp fiend, you're sure to feel accomplished after an OutRun. And hey, go ahead and treat yourself to that ice cream—you deserve it.
Roam Fitness. 2050 Wisconsin Ave., NW; 202-999-2388. First-timers can try out the gym for free for one week. Drop-in classes are $25; one month of unlimited OutRun classes is $22.
More Reviews: