My first attempt at standup paddleboarding earlier this summer ended up being much more than I bargained for. So when I arrived at Key Bridge Boathouse for a second go Wednesday night, I chose SUP Fitness's simpler counterpart: a yoga and standup paddleboarding class with Ebb + Flow Yoga. Still, it wasn't without a bit of trepidation.
Would instructor Jane Daly make the nine of us attempt headstands on the water, a move I can't even do on land? How many times would attempting a high lunge force me to take a tumble into the murky waters of the Potomac?
Daly, who also teaches the yoga-standup paddleboarding class along the shores of her hometown in New Jersey, began the class on the dock with a rundown of paddling safety instructions and a quick warmup. With our lifejackets securely strapped to our waists, we paddled off to a small cove along the edge of the river, where we anchored our boards and began the yoga session.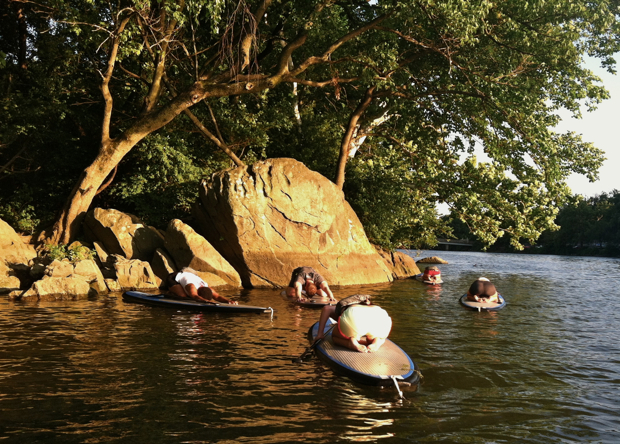 As with normal yoga classes, we began by setting an intention. (Mine: "Please don't let me fall in. Please don't let me fall in.") Daly gently reminded us to focus on our individual practice and to block out the car horns echoing from Georgetown and helicopters flying overhead. We went through a slow series of downward dogs, planks, low lunges, and child's pose, as a family of ducks swam by and the sun began setting behind us. Much to my pleasure, no headstands or crow poses were asked for—after all, there's only so many backbends you can attempt before tipping over (as I almost did and another fellow actually did). Thirty minutes later, as we lay in savasana, all that could be heard was water lapping at our boards and the wind rustling through the trees above us.
As it turns out, the biggest challenge of the class wasn't attempting yoga on water, but having to pull up our anchors and paddle away from our peaceful cove back to the dock.
Ebb + Flow Yoga. 3500 Water St., NW; 202-337-9642. Classes are $35 and are also offered occasionally on weekends in Long Beach Island, New Jersey.
You Might Also Like: