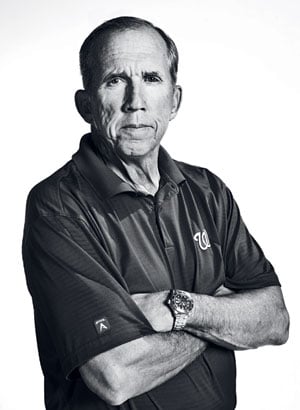 What's a visiting ball player to do after his team loses to the Nationals for the
second time in two days? If you're New York Mets pitcher
Matt Harvey, you go to J&G Steakhouse in the W Hotel. He was spotted there Saturday night with
his Victoria's Secret model girlfriend,
Anne Sergeyevna Vyalitsyna, who is known as Anne V. Our sources say they also dropped by the upstairs POV bar.
Earlier in the day the Mets lost to the Nationals 4-1, following a 2-1 loss to the
Nats the night before. Sunday the Mets lost again, in a 14-1 drumming. It's possible
the meal was the high point of Harvey's Washington visit.
And then sometimes, after a tough one, a pro just needs to be alone.
Davey Johnson was spotted Thursday night at the private CXIII Rex cigar club in Old Town. Earlier
in the day he was ejected from the Nats game against the Pittsburgh Pirates—the first
time Johnson was ejected this season. The Nats went on to win 9-7, thanks to a 9th
inning walk-off homer from
Bryce Harper. According to those who spoke with him, Johnson wasn't crying in his beer. Just the
opposite. He was enjoying a night off from work at a friendly establishment close
to his home.
Read more about where Washington's sports stars like to dine out in the August issue
of
The Washingtonian.