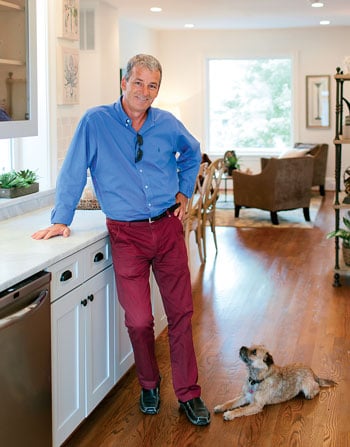 "I've seen it before, the pause at the front door, eyes soaking it in and begging for more."
"Mr. Clean must've married Danica Patrick, built a razor-sharp racetrack w/smooth banks, soft curves, and looong straight-a-ways."
"Someone please explain how this builder fit a V-8 engine in a Porsche 911? How they made a Maserati that seats 6?"
"There's some sort of warm embrace in this place, seldom felt, nourishing. Then start the tour, through silky smooth social space, into Top Chef Kitchen fit for Tapas Competition. Rarely seen first floor den = Sunday Times or Post in PJ's with toast."
"You are humbled, like what happens when we stare out to sea & feel small. . . . Wait a minute! Is that a family room off the kitchen? Toss me a Pop-Tart Mom!!!!"
Those aren't song lyrics or poorly written poems. They're excerpts from house descriptions by DC real-estate agent Tom Faison. "When I started selling homes 22 years ago, I would read these remarks that start off by saying, 'This three-bedroom has a stove,' " Faison says. "I've always hated that. I feel like it's describing the Mona Lisa as a woman with two eyes, a nose, and a mouth."
Agents have 400 characters to describe a house in an MRIS online listing. Faison likes to think of that space as a chance to sell an experience. "We don't buy homes because of logic," he says. "I try to promote a feeling and provoke people." He makes his descriptions vague, confusing, and ridiculous enough that people will want to investigate further.
Faison calls his descriptions more akin to limericks than poems. And though he has fun writing them, he says they don't make much difference in actually selling a house: "It's really all about price. A house can have a dead body in the basement, but a good price can cure that."
So why do it? "Like all real-estate agents, I crave attention. Life's too short to be boring."
This article appears in the August 2013 issue of The Washingtonian.