On a Wednesday morning at Vida Fitness at Verizon Center, a group of Washington chefs are jumping rope while exchanging jokes in the fitness studio. Their personal trainer, Jason Yoo, is ten minutes late, but they already know what's in store for the next hour.
"We usually start off with some high knees and warmup drills," Will Artley of Pizzeria Orso explains to me, detailing the impending workout with a smile.
I'm a bit surprised: Artley, who started out the Fit for Hope DC Challenge in June as the heaviest chef at 326 pounds, is actually excited for the next hour of jumps, sprints, lunges, squats, and overhead presses.
But his 9 AM cheeriness makes more sense once I find out that in the past month he's shed 40 pounds and is currently in third place of the competition, which raises money for the American Cancer Society. In fact, Artley is so motivated by his success that he's signed up for his first sprint triathlon in September.
Before I can find out more, Yoo runs into the studio ("Took me 45 minutes to get here from Tenleytown!") and gets the six of us started on high knees and walking lunges with kicks. We're breathing fast and sweating by the time we race through agility drills, hop imaginary hurdles, and walk on our hands in plank position in circles.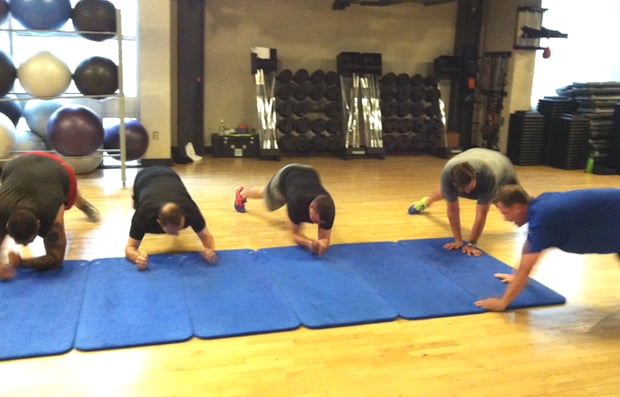 The workout is not easy, even for the fittest folks, but Yoo says his team has impressed him with their dedication in the past month. "I was a little wary early on," he admits, "but the guys that are here, I couldn't ask more from them. They come in super-motivated, like to boast about their accomplishments, and have been really disciplined in both their exercise and eating."
Not to say it's been easy giving up late-night snacking, especially for chefs, whose shifts often don't end until 9 PM or later. "The biggest hitch for us is the drinking and eating," says Ryan Wheeler of the Eat Good Food Group. "Often we don't eat until after service or once we get home. That was the most difficult thing, breaking that pattern."
But they have: Wheeler now only drinks alcohol on Sundays, and Matt Hill of Range says he's cut back, too. Artley especially recognized the need to change his diet, since his wife is a nutritionist.
For the final set of drills, we partner up to perform wall sits, high knees in place while holding a medicine ball overhead, and jump squats. After three agonizing rounds, the workout's over, and the chefs are wiping down the mirrors and equipment and heading to working long hours at their respective restaurants.
But they'll be back bright and early again the next day, and for the rest of the month, and even after that. "I've been bitten by it," says Wheeler of his new fitness regimen. "I'm just really addicted to it at this point."
More Fitness Class Reviews: