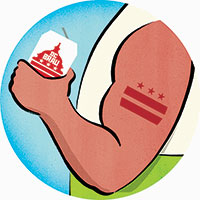 The fifth annual DC Beer Week began August 11, and there's all sorts of stuff happening at local bars and breweries. One way to get in on the fun: Head out to sample Solidarity Summer Ale, a collaboration between brewers in the District, Virginia, and Maryland. The project was overseen by Barrett Lauer, head brewer at District ChopHouse & Brewery, and Bill Madden of Mad Fox Brewing Company in Falls Church; beermakers Gordon Biersch, 3 Stars Brewing, DC Brau, Capitol City Brewing, Atlas Brew Works, Rock Bottom Bethesda, the Brewer's Art, Lost Rhino, and Port City Brewing each contributed water from their breweries. It was made at DC Brau's facility at 3178 Bladensburg Road, Northeast.
To ensure yourself a sip of this rare brew—only 30 barrels were made—head to one of the following events.
Gordon Biersch English Summer Ale Tasting
When: Tuesday, August 13, 6 to 11
Where: 900 F Street, Northwest
How much: $15 at the door
What else: A tasting glass to take home with you and a chance to sample nine English summer ales; there will also be Brit-style pub grub.
RFD Coast-to-Coast Tap Takeover
When: Wednesday, August 14, beginning at 3
Where: 810 Seventh Street, Northwest
How much: $5 cover goes to St. Jude's Hospital; all beers—including our friend, Solidarity—are $5 each.
What else: It's your chance to try 20 beers from across the country, including samples from Abita, Sam Adams, Flying Dog, Lagunitas, Great Lakes, Victory, Goose Island, Sierra Nevada, and Firestone Walker.
DC Brau Pairing Dinner at Ripple
When: Thursday, August 15
Where: 3417 Connecticut Avenue, Northwest
How much: $65
What else: You have to reserve, as spots are limited. Contact David Delaplaine at david@rippledc.com or 202-244-7995. The five-course menu follows:
• Bar snacks and DC Brau Solidarity Summer Ale
• Cheese and charcuterie and DC Brau Heurich's Lager
• Spicy California cioppino and DC Brau EL Jefe Speaks Hefeweizen
• Autumn Olive Farms pork and DC Brau On the Wings of Armageddon imperial IPA
• Chocolate flourless cake and candied pretzels and DC Brau Penn Quarter porter float
Lost Rhino Found Rhino at Meridian Pint
When: Friday, August 16, 5 to 2
Where: 3400 11th Street, Northwest
How much: All Lost Rhino beers are $5 from 5 PM on—including pours from a cask of Summer Solidarity.
What else: While out and about at DC Beer Week events, look for the brewery mascot—a dude in a rhino costume—and take his picture. Tweet said picture with the hashtag #IFoundTheRhino before anyone else does, and you'll get free Lost Rhino brews on Friday.
Craft Brewhaha at Old Ebbitt Grill
When: Saturday, August 17, 8 to 11
Where: 675 15th Street, Northwest
How much: $50 (buy tickets online).
What else: Nine local chefs offer fare to pair with beers from nine local breweries. Participating restaurants include the Pig, the Hamilton, Clyde's, and Meridian Pint. Celtic-bluegrass-rock outfit the 19th Street Band will also perform.