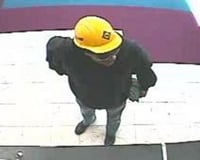 Federal agents are on the hunt for a robber who has hit the same TD Bank in Alexandria four times since 2010, but has appeared wearing different styles of headgear during each crime spree.
The FBI issued an alert for a suspect it is dubbing the "Beacon Hill Bandit," who most recently robbed the TD branch at 6615 Richmond Highway—across the street from the Beacon Hill Shopping Center—on July 29. According to the FBI, the suspect would approach a bank teller and demand to have a plastic grocery bag filled with cash. In three of the four incidents, the suspect implied he was carrying a weapon.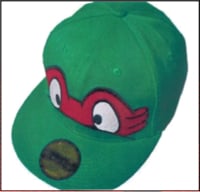 And then there is the suspect's hat collection. In the first robbery, on March 9, 2010, the suspect was wearing a yellow construction helmet. During the next incident, in October 2012, he was wearing an orange hard had. The following time, it was a black cap. And most recently, the suspect was wearing a green baseball cap emblazoned with, the FBI says, "an image that resembled a Teenage Mutant Ninja Turtle character."
The image on the cap is red, the color favored by the dagger-wielding Raphael.