Thally, a new restaurant in Shaw, opens Tuesday. The design and furniture—simple and solid—reflect the menu, which chef/co-owner Ron Tanaka developed with neighborhood residents in mind. The chef says the people who live around the area anchored by the convention center tend to be homeowners in long-term relationships, and the restaurant will give them a mellow place to hang out that's not too expensive (entrée prices hover in the teens and low $20s). Tanaka, whose last gig was helming the kitchen at New Heights in Woodley Park, was the first chef at wine bar Cork on 14th Street, another restaurant designed with a neighborhood in mind.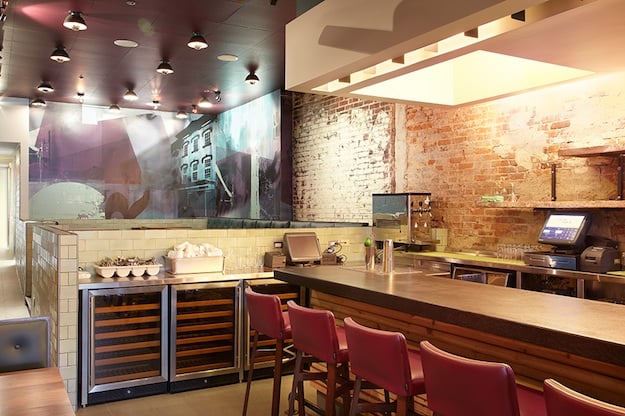 One of Tanaka's favorite selections on the menu combines Swiss chard with Tarbais beans, fennel, mushrooms, and slow-cooked shallot chips sweetened with simple syrup. It's meat- and dairy-free, but the chef says he didn't even realize that until he had already created the dish, as great texture and flavor combinations dictated all of his menu decisions. And he says he likes the food to have a natural look, as if the ingredients had floated gently down from the sky onto the plates. The menu will change seasonally and is based on available ingredients.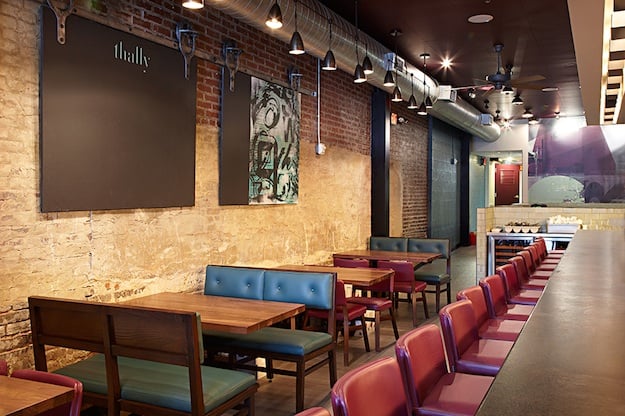 Artist Matthew Hlubney designed graphic canvases that reference neighborhood history, including the Thally Ho stables, the restaurant's namesake, located directly behind it in Blagden Alley. Architect Peter Hapstak took a cue from Hlubney's artwork to develop the color palette of teal and plum. A 15-seat bar, topped with leather-wrapped granite, forms the centerpiece of the restaurant and will be the place for classes on cocktails and wine. Co-owner Sherman Outhuok has developed the drinks menu and will offer a changing selection of by-the-glass wines from all over the world.
Thally will begin with dinner service only, eventually adding weekend lunch to the schedule.
Thally. 1316 Ninth St., NW; 202-733-3849.