If you thought the Pilates Reformer machine was intimidating, wait until you try the MegaFormer at Solidcore, an Adams Morgan fitness studio scheduled to open this fall.
A workout on the MegaFormer has been described as "Pilates on steroids" and one that will "work all muscle fibers to the point of failure." Says Solidcore owner Anne Mahlum, "It's supposed to be really intense. People are going to sweat and get their heart rate going."
When it opens November 2, Solidcore will become the only studio in DC to offer the MegaFormer and Lagree Fitness Method, which has risen in popularity in California and has already attracted students in its Boston and New York studios. Mahlum, also the founder of the running organization Back on My Feet, says she got hooked on the workout after trying it in LA. "I knew it was benefiting my body in a way I'd never seen before. I wanted to bring it to DC."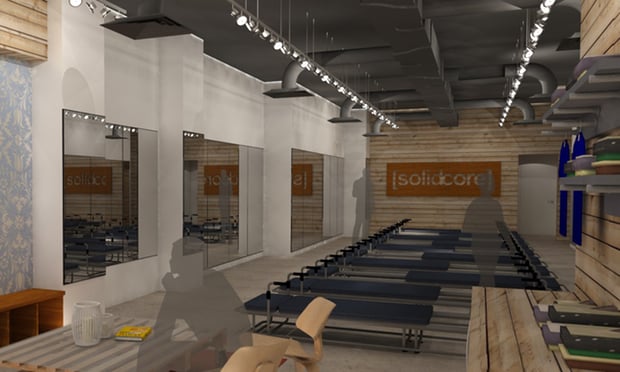 The 1,930-square-foot studio will feature ten MegaFormers, which means the 50-minute classes will be kept small to provide a community-feel and individual attention to each student. "This is a workout where you'll have a coach the entire time, but it's a little bit more high-energy than when you just have a personal trainer," says Mahlum, an Adams Morgan resident. The studio will add another two machines next year.
Mahlum says that although Solidcore won't open for another three months, she already has plans to expand to two more locations in DC. "We want to work to bring as many studios to different pockets of DC so that everyone can try it."
Solidcore. 1840 Columbia Rd., NW. First class is $17.