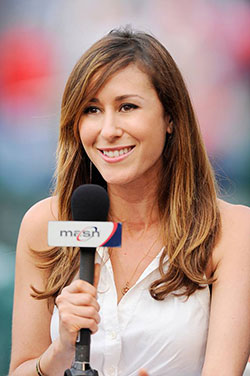 Anyone who watches Washington Nationals games—especially on television—should be familiar
with the name, voice, and face of
Julie Alexandria. She is the team's sideline
reporter for MASN, which produces most of the live coverage.
She is quick to say the job is a "wonderful experience," but
acknowledges it comes
with its own set of challenges: remaining camera-ready in the
usually humid summer
weather in DC and on the road, getting caught in the occasional
celebratory upending
of a barrel of
Gatorade,
and doing it all in high heels—on top of staying as informed
about the team as any
sportswriter, and then some.
Alexandria's on-field and clubhouse credentials give her a unique perch. During games
she sits practically in the dugout with the players. "Nobody else has the vantage
point of being with the team in the clubhouse, being on the field for the game, being
on the plane for the travel, being in the cities with the team, as well as seeing
them pre- and post-game, seeing them at their highest highs and lowest lows, early
mornings and late nights," she says. With the privileges come responsibilities she
enjoys and respects. "I have to report on the good, the bad, and the ugly." To that
end, she considers the Nationals players and coaches colleagues rather than friends.
"It would not be appropriate for me to consider them friends," she says. "They help
me to produce a product. They give me information, and I relay it to the fans." Alexandria,
who is not married, keeps work entirely separate from her private life. "We don't
hang out. I have never sat at a table and shared a meal with any of them. I have my
own no-fraternization policy. I have never dated an athlete, ever."
Sports reporting has been Alexandria's business since 2008, when she switched from
pursuing an acting career to doing college football sideline reporting for Fox, a
magazine show for the New York Mets, and various other sports programming. She covered
primarily Big Ten and Pac-12 games, including the 2013 Cotton Bowl when "Johnny Football"
Manziel set records in a defeat of Oklahoma. Alexandria calls herself a "sports enthusiast,"
and says she is attracted to the competition. "I was a competitive figure-skater for
15 years. I am a very competitive person."
This is Alexandria's first year with the Nationals. The call came while she was in
Los Angeles. "MASN said they wanted to fly me out to Camden Yards, where their headquarters
are," she says. "They had been tracking what I'd done for the Mets and Fox. I met
with them and one of the Nationals' head guys. I had a really good meeting. They were
as sweet as can be. I thought it would be a wonderful opportunity." It's a good thing,
then, that "baseball has always been my favorite sport."
Alexandria is not brought down by the fact that the Nationals, with 25 games remaining,
are likely not going to the playoffs. "It's amazing the tenacity this team has. They
keep a positive spin on everything," she says. Contract talks won't begin until after
the regular season ends, but she hopes to be asked back for another year. "It's been
a wonderful adventure. An awesome experience," she says. "Every single person in the
organization has been a joy to work with. They are good eggs." She calls them a family
and praises them for their own family ways. "We have a young team but a very family-oriented
team. I think it's great. A lot of guys travel with their families—[there are] a lot
of good fathers—which is a thing you don't often see."
Alexandria, a native of Orange County, California (fun fact: she went to California
State University Long Beach with former Nats second baseman Danny Espinosa), also
lives part-time in New York, and DC's almost routine summer humidity was something
new to her. So we had to ask: How does she stay camera-ready in all conditions? She
shared five tips that could be useful even for those of us who aren't spending days
and nights on ball fields.
Hair: "Washington [introduced?] humidity to me. Everyone warned me. I always keep a mini
brush on me. Right before going on camera, I give myself a quick smooth-down. I always
bring a hair tie or clip. Sometimes on a windy night the wind is my worst enemy, getting
stuck in my lip gloss, my eyelashes. I tie or clip it back and take it down and fluff
it up just before going on camera. The minute the camera goes off I tie it back up."
Feet: "I always wear heels or wedges and bring flats in a little shoe bag. I find heels
incredibly painful, because as an ex-figure skater I had four foot surgeries. Even
though I love the way heels look, I arrive and walk around the clubhouse in flats
and change out for the broadcast."
Face: "I believe in a powder from Make Up For Ever called HD Powder. It's translucent.
I always keep it on me. It does absolute wonders in the humidity. It keeps for hours.
I put on a primer, Givenchy foundation, and the HD Powder. Add some MAC Studio Fix,
and your makeup is not going anywhere."
Lips: "I never leave the house without lip gloss, in various shades of pink or clear. I'm
a lip gloss fanatic. Right now my favorite is O-Glow by Smashbox. It's a clear lip
gloss that will basically emulsify and adjust to the color of your lips. It's a custom
lip gloss for everyone, and it lasts all day."
Skin: "I always wear a hat for day games. Being out in the sun, I wear sunscreen every
day. I really lather it on. And Oakley polarized sunglasses."