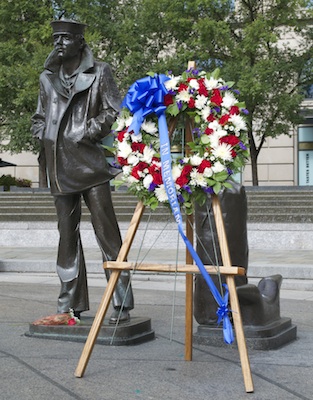 Two commemorations for the victims of the Navy Yard shootings, one held less than
12 hours after news of the tragedy broke, were sparsely attended. But they are the
first of what will surely be many tributes to the 12 victims who were killed and an
early wave in a renewed national conversation about gun violence.
As the city slowly returned to normal Monday night, perhaps only a dozen mourners—greatly
outnumbered by reporters—gathered for a candlelight vigil at Freedom Plaza, on Pennsylvania
Avenue, Northwest, to take stock of the lives lost.
"For us this is hitting home now,"
Eddie Weingart, the founder of Project End Gun Violence, told the crowd. "This isn't just Washington,
DC. This is a city that many of us work in, live in, and love."
Investigators say the suspected gunman,
Aaron Alexis, used a shotgun he purchased last week at a Lorton, Virginia, gun shop, not an AR-15
assault as early reports had it. Still, gun-control advocates note, the transaction
took very little time to process, thanks to Virginia's instant background check system,
available to all gun dealers in the state, and state laws that give a wide definition of
who is permitted to purchase firearms.
Alexis, according to reports, recently sought treatment for mental illness from the
Veterans' Administration, though Virginia law only bars gun purchases by people ruled
"legally incompetent" or "mentally incapacitated," or who are involuntarily committed.
On Tuesday morning, a similarly sparse crowd attended a wreath-laying by Defense Secretary
Chuck Hagel at the Navy Memorial in Penn Quarter. Assisting Hagel were a group of US Navy dignitaries,
including Navy Secretary
Ray Mabus and chief of naval operations Admiral
Jonathan Greenert, as well as Joint Chiefs of Staff chairman Army general
Martin Dempsey.
As the media-dominated crowd dispersed after the wreath was placed next to the statue
of the Lone Sailor, master chief petty officer
Evelyn "Vonn" Banks, the senior enlisted person at the Naval Sea Systems command, walked to the wreath
with a Navy civilian employee who was in the building at the time of the shooting.
After standing in silence a moment, they shared a brief hug.
But if the turnout was thin, both events drew passersby who stopped to pay tribute.
"We were actually walking around when we saw this," said Prince George's County resident
Brittany Carter, who came to the candlelight vigil with a friend. "It resonated in our hearts."
Bryan Beard, a Navy veteran, told
Washingtonian at the vigil that he was in "shock" when he first heard the news coming out of Navy
Yard. "This hits home in a couple of different ways," he said.