Blame it on the runaway success of
Homeland, Scandal, Veep, and the like, or on Hollywood's obsession with its uglier industry-town twin on
the East Coast. Either way, two new Washington shows debut tonight at 10 on network
television, and we've previewed them both to help you figure out which one to watch.
So what are these new shows, and will either restore my faith in institutional monoliths
like the CIA and the FBI?

Probably not. NBC's new show is
The Blacklist, a zippy drama about a career criminal who turns himself in to the FBI on the proviso
that he wants to help them catch bad guys but will only work with a particular female
agent. Yes, it's a lot like
Silence of the Lambs, but no one's liver gets eaten with either fava beans or Chianti.
CBS's offering is
Hostages, a less-zippy drama about a surgeon general who's about to operate on the President
when her family is kidnapped by a team of baddies in balaclavas who want her to kill
him on the operating table.
Yikes. Hospitals

and

politics. Any good stars?
Said surgeon, Ellen Sanders, is played by
Toni Collette of
Little Miss Sunshine and
United States of Tara fame (but she'll always be Muriel to me).
Tate Donovan is her husband, and
Dylan McDermott is the leader of the merry band of kidnappers, which also includes
Rhys Coiro from
Entourage.
The Blacklist stars
James Spader as Raymond "Red" Reddington and
Megan Boone as Elizabeth Keen, the rookie FBI profiler he demands to work with. And Mike from
Homeland, a.k.a
Diego Klattenhoff, is FBI agent Donald Ressler, which is weird because he really should be helping
the Brodys right now, given their current situation.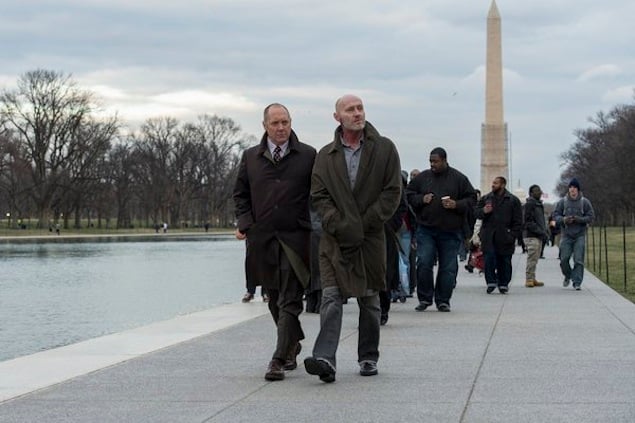 Which has the more ridiculous premise?
Hostages, for sure. It's the kind of show you can only imagine a TV exec thinking was a good
idea while under the influence of pharmaceutical-grade cocaine. Because, at some point,
the surgeon general is going to make a decision on whether or not to kill the President,
and at that point, the show's surely over, right? Maybe it would work as a movie,
I don't know. Or maybe it's just the beginning, and Ellen's somehow going to become
indoctrinated into this cult of President killers and help them off lots of other
people on the operating table.
The Blacklist is also fairly silly, but at least it has the structural advantage of having James
Spader tackle a different evil criminal each week.
There's a twist, right?
Naturally. Within five seconds you'll probably be able to surmise why Red's so interested
in Agent Keen (you can probably guess it right now, actually). Also, Elizabeth's happy
home with a dreamy teacher husband (90210's
Ryan Eggold) might not be as happy as she thinks it is.
In
Hostages, Ellen's family all seem to be keeping secrets from her, which puts them at even
more risk of being blackmailed to do bad things. Ellen's kidnapper also appears to
be an FBI agent, and his team all have consciences, despite looking very scary in
balaclavas.
Will either or both go the distance?
Both seem to be getting pretty decent reviews, and NBC badly needs a new drama hit
(remember
The Firm?).
But it's hard to see
Hostages lasting a long time unless the writers find a new plot point for it to revolve around.
Is Kate Burton, who also popped up in

Veep

and

Scandal

, in either of them?
Funny you should ask. She plays FLOTUS in
Hostages (her husband is
James Naughton). I also glimpsed
Annet Mahendru (Nina in
The Americans) for a second in
The Blacklist. And there's
Homeland's Mike, of course.
Any good Washington scenes?
The Blacklist makes up for the fact that its opening sequence places the FBI Washington Field Office
in a skyscraper by having a pretty cool chase sequence outside the Newseum. And there's
the obligatory meet by the Lincoln Memorial, of course.
Hostages has a few sweeping DC views but nothing baller in the first episode.
Which female heroine is more badass?
Toni Collette wears high heels to cut parts of people's lungs out, so there's that.
But Agent Keen stabs James Spader in the carotid artery with a ballpoint pen, so I'm
giving her the edge in this one.
The Blacklist premieres tonight, September 23, at 10 on NBC.
Hostages premieres in the same timeslot on CBS. We'll be recapping both shows, so check in
tomorrow for more.