Three years ago, at age 46, Cherie Lester was diagnosed with Lyme disease. The disease, which the CDC says effects approximately 300,000 people in the US each year, led Lester to make a complete 180 to her lifestyle as an artist and photographer. She became a holistic health coach, adopted a plant-based diet, and is now the healthy eating specialist at Whole Foods Market in Georgetown, where she teaches customers and staff "how to make delicious, simple changes toward a healthier lifestyle." Along with healthy eating, Lester relies on a simple fitness regimen that includes runs past the National Cathedral and hikes through Rock Creek Park. Read on to see how she fuels.
Breakfast coffee: A good cup of coffee with unsweetened vanilla hemp milk. "I love the richness of hemp milk and the morning ritual of having coffee. In the colder months I sometimes add a spoonful of cacao or a few dashes of cinnamon for a change. Occasionally, instead of coffee I'll opt for hazelnut Teeccino, which really tastes great."
Breakfast: "Healthy fiber, tons of nutrients and clean energy = my morning smoothie! Sometimes I'll mix it up and switch which fruit, nut milks, or greens I use. Today I blended kale, organic tofu, one banana, frozen berries, hemp protein powder, chlorella, a big chunk of ginger, cinnamon, and unsweetened almond milk."
Morning snack: "As soon as I get to work, I'm ready for a fresh, healthy snack and like to pick up a little something before heading to my desk. Today it was papaya chunks with fresh-squeezed lime juice. Throughout the day I sip cold-brewed hibiscus tea—very high in antioxidants—with fresh lemon slices."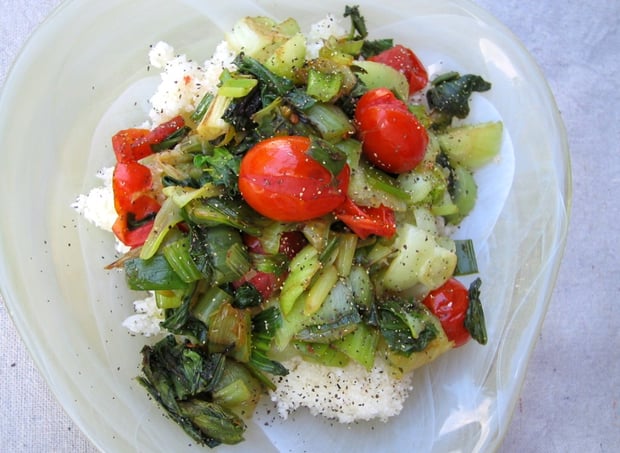 Lunch: Herbed cauliflower "rice" with sautéed bok choy and grape tomatoes.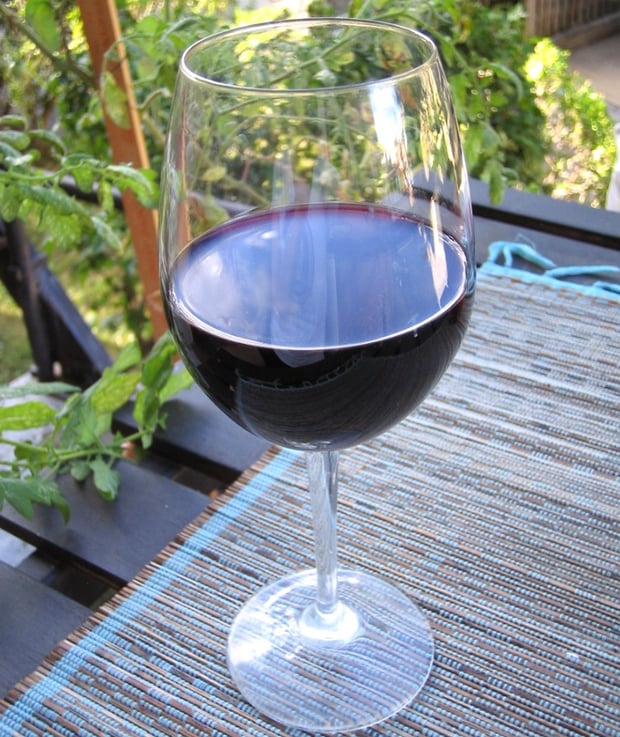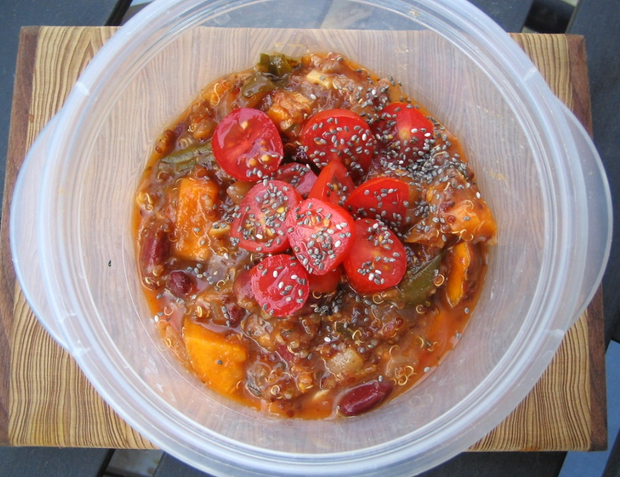 Dinner: "Tonight I had a bowl (or two) of homemade veggie chili topped with grape tomatoes and chia seeds with a glass of South African red wine. Yesterday, when the temps dipped to the low 70s, I broke out my crock pot and threw together this chili: kale, red quinoa, kidney beans, sugar-free tomato sauce, tons of fresh garlic, shallots, red onion, sweet potatoes, salt, pepper, cumin, and nutritional yeast."
Disclaimer: The Food Diaries series is intended to be inspirational and is not an endorsement of each individual's diet.
You Might Also Like:
Are you a local health, fitness, or nutrition expert with a love for food? E-mail wellbeing@washingtonian.com to find out how you could be featured in our Food Diaries series.