At last night's American Cancer Society Taste of Hope event, it took a few minutes of awkward staring to realize that the man standing in the corner of the room was none other than chef Will Artley of Pizzeria Orso.
I barely recognized the trim man in the gray blazer and jeans as the one I had planked and lunged next to just a month earlier during a Fit for Hope workout at Vida Fitness. But sure enough it was Artley, now more than 60 pounds lighter and chatting about his five-mile run earlier that day.
Although all 14 chefs who competed in DC's first annual Fit for Hope Challenge lost weight—a total of 400 pounds—and helped raise more than $30,000 for the American Cancer Society, Artley's transformation was truly impressive. He began as the heaviest chef, at 326 pounds at the first weigh-in in June, and lost a total of 65 pounds—20 percent of his bodyweight—by the final weigh-in on September 16, clocking in at 255 pounds by September 22.
But Artley wasn't alone. At Tuesday night's event, he tied for first place overall in the weight-loss challenge with teammate Todd Thrasher of Restaurant Eve, who also lost 20 percent of his bodyweight. But personal trainer Monica Pampell, who coached one of the two Fit for Hope teams, says, "At this point the chefs don't care about who wins what. They've all supported each other throughout the challenge."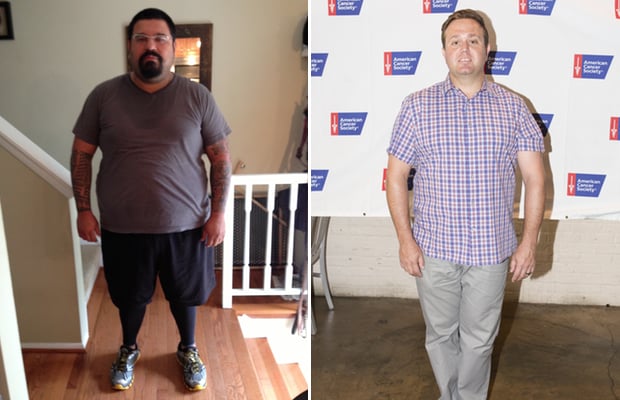 "I feel like a different person," said Artley, who added that he owed much of his weight-loss success to personal trainer Jason Yoo and to his fiancée, who is a nutritionist. Another key to staying on track, he said, was not limiting himself too much from treats like the occasional glass of wine: "It was all about balancing," he said. "I wasn't getting rid of things I liked in my life."
The three-a-day workouts he put himself through during the 12-week challenge also helped, along with leaving the restaurant at a reasonable hour. "Now, when 9 o'clock hits, I'm outta there," said Artley. "Gotta get up at 4:30 for that workout." Another bonus: Shedding the 60-plus pounds also meant getting rid of his sleep apnea.
Although Fit for Hope is now over, Artley isn't done pushing his limits. Next up is a sprint triathlon at Lake Anna with four of his coworkers. "I told them if I beat all four of their times, they have to take me out to dinner," he said.
His restaurant of choice? Restaurant Eve, where fellow winner Thrasher will be sure to fix him a celebratory drink.