A lot of people have called me crazy for trying out various fitness classes this year. There was that unexpected session of burpees on the standup paddleboard this summer; the three-mile run with mountain climbers and log crawls mixed in; and that time I worked out with a former Amish farmer.
So far I've taken it all in stride—but this past Sunday's fitness class had even me apprehensive. The class, called Brick, took place at 8:30 AM at Off Road DC on U Street and involved 30 to 45 minutes of indoor cycling followed by a three-mile run.
Apparently, I'd rather fall into the questionable waters of the Potomac River while doing yoga on a paddleboard than tackle two seemingly simple workouts combined into one.
Huh. Maybe I am crazy.
Regardless, I was the first one to arrive at Off Road Sunday morning and was soon joined by just three other riders. (One class-goer later told me she and another girl were usually the only attendees. "It's pretty hard for most people to get up at 8:30 on a Sunday," she said.) The cycle portion, typically taught by Off Road co-owner Tammar Berger, was led that morning by Bridget, who coached us through about 30 minutes of hills and sprints.
Although it was challenging, Bridget ensured that we never went above 100 revolutions per minute so we could save what energy our legs had left for the run.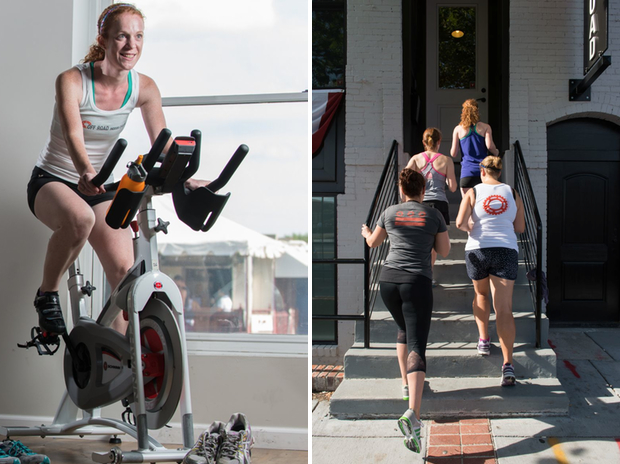 Post-cycle session, she wished us luck as we hopped off our bikes and headed downstairs to meet running coach Kristi Martin. "We usually do a three-mile run—is that okay with everyone?" she asked.
The class gives attendees the option of running one, two, or three miles, but it's hard to split up a group of only four—or so I thought. One runner shot off ahead of us, never to be seen on the run again. I stuck with the other two class-goers, starting at U Street and heading down 15th, then along M Street.
While the run was only three miles, I found myself counting down the number of blocks I had left, cursing every stoplight that turned green before I had a chance to catch my breath. "Don't stop now—you have pancakes waiting for you at home," I had to remind myself during that final stretch up Ninth Street, past all the new restaurants tempting me with their delicious smells of bacon as I gasped for air.
We ended our run back on the steps of Off Road DC and cooled down with a short stretch. One rider mentioned that she liked the class because she often suffered from tight hamstrings, and cycling before running helped warm up her muscles. The other rider's reason for doing Brick was simple: "I just want to get in shape."
For an experienced triathlete, Brick serves as a tune-up during the offseason, and for everyday gym-goers like me, this two-in-one class is a great introduction to what all the triathlon hype is about.
As we finished stretching, we were invited to join the class upstairs called Sufferfest, a two-hour cycle session on the bike.
"No thanks," I said, half laughing. I'm not that crazy.
Off Road DC. 905 U St., NW; 202-681-1319. $20 per class.
You Might Also Like: