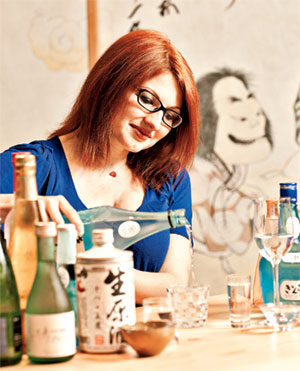 It's October 1, and the bad news is your government has failed you. The good news: It's also World Sake Day, and sake is awesome.
How to celebrate? Tiffany Soto, the beverage director at Pabu Izakaya in the Four Seasons Baltimore, is ramping up her sake education program in October, when the brewing season typically begins. On October 5 and 12, she'll teach her Sake 101 class; Sake 102 classes—for the slightly more advanced student—will be held on the 19th and 26th. The first class covers types of sake, how they're made, regions, etc. In the second class, you'll learn how to pair sake with food, among other things.
In addition to those full-length sessions, Soto will be teaching a short, complimentary lesson during a monthlong sake happy hour showcasing sake cocktails and discounts on glasses and bottles of the Japanese brewed beverage.
Meanwhile, in the kitchen, Pabu chef Jonah Kim is cooking up a sake-influenced version of the restaurant's popular Santori tasting menu featuring pairings. Finally, on the 10th, the restaurant will host a Kubota sake dinner featuring pours from the prestigious brewer in Japan's snowy Niigata region. For more information on the classes and dinner, contact Shannon Toback at 410-223-1464.
Here in Washington, you can celebrate by sampling sake at Kaz Sushi Bistro, Sushiko, Izakaya Seki, and Sushi Taro, which have some of the best sake collections in the city. There are also futuristic sake bombs upstairs at Daikaya in Penn Quarter, but a word of warning: Those sneak up on you. Don't make October the month they found you passed out in front of the Verizon Center.
See Also:
A Beginner's Guide to Sake
Guide to Japanese Dining in Washington